Here is a recap of Ruslan Provodnikov's relentless performance against Mike Alvarado!!
Get it done in 25 minutes a day with Focus T25! Click here!
This fight started out by Alvarado literally running from Provodnikov in the early rounds as Alvarado used his jab to set up right counterpunches and left uppercuts shots that landed on Provodnikov as Provodnikov stalked Alvarado.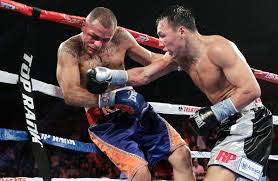 Provodnikov pressured Alvarado the whole night as he walked through a lot of Alvarado's jab when Alvarado decided to stand and fight and he landed some great power shots on Alvarado that Alvarado surprisingly took pretty well in the early rounds of this fight.
Provodnikov hurt Alvarado in the middle rounds as Alvarado's legs told the story about how he was hurt by Provodnikov's power shots, however, Alvarado recovered from the power shots pretty good until round 8th when Provodnikov dropped Alvarado twice in the 8th round as Provodnikov hurt Alvarado bad to the body.
Alvarado was down and almost down in the 8th, but he fought out of the round and survived the 8th which turned out to be one of the best rounds in boxing this year.
Provodnikov continued to work Alvarado's body the rest of the night en route to winning a 10 round TKO victory to capture the WBO junior welterweight title as Alvarado did not come out for the 11th round.
Wow.  What a great fight!!  Provodnikov simply broke Alvarado's will tonight.  I do not care who Provodnikov fights next.  I just want to see him fight for as long as he is in the sport of boxing!!
Get quick home insurance rates! It's FREE! Take a look here.
For more boxing news and articles continue to visit www.potshotboxing.com. If you like this post and other's from Potshot Boxing, feel free to spread the word to your favorite social media channels with your friends and family!! Potshot Boxing – "Boxing news and article bites for all walks of life."