Here is Potshot Boxing's (PSB) prediction for the upcoming middleweight title fight between Gennady Golovkin and Daniel Geale!!  This is going to be a great fight!!
Who will win between Gennady "GGG" Golovkin and Daniel "Real Deal" Geale? Geale has been in the ring with a lot of top middleweights such as Felix Sturm and Darren Barker. Golovkin has retired, stopped, or knocked out his last 16 opponents. This makes for a very intriguing fight!!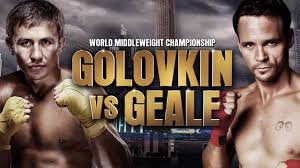 Photo Credit: worldinsport.com
This fight was supposed to have happened 2 years ago when Geale won the WBA (Super) middleweight crown back in 2012, but Geale chose not to fight Golovkin who was at the time the mandatory challenger for Geale's WBA (Super) middleweight title. Instead, Geale took a rematch with Anthony Mundine. Geale was stripped of the WBA (Super) middleweight title because of his failure to fight Golovkin then.
Weigh loss power of Bio Active Raspberries….Free Trial!!
So the question is did Geale see something in Golovkin that made him say I do not want any part of this guy, or was Geale being sincere when he was simply giving an opportunity to a fighter in Mundine who does not get enough big fights to showcase his boxing skills.
I am not sure what the deal is, but the last time I checked Golovkin is strong, he has never been knocked down in his professional boxing career, and his patient-aggressive boxing style can give cause to pause for any fighter in the middleweight division who will challenge him. I expect for Golovkin to use that great aggression to move forward and inflict as much punishment as possible on Geale in hopes of making Geale quit or get stopped.
Geale is definitely a smart fighter so Golovkin will not have an easy walk in the park. I expect for Geale to use his jab, circle Golovkin and try to produce some effective offense, but I just feel that Geale will be backing up the whole night. Geale will probably end up becoming the biggest challenge that Golovkin will face to date, but I believe Golovkin's aggression will win the night over Geale and Golovkin will stop, retire, or knock out Geale.
Prediction: Gennady "GGG" Golovkin by knockout
Weigh loss power of Bio Active Raspberries….Free Trial!!
For more boxing news and articles continue to visit www.potshotboxing.com. If you like this post and other's from Potshot Boxing, feel free to spread the word to your favorite social media channels with your friends and family!! Potshot Boxing – "Boxing news and article bites for all walks of life."