Here is Potshot Boxing's Prediction for the upcoming WBC heavyweight title fight between Bermane Stiverne and Deontay Wilder!
This fight is basically a race to the 5th round.  Deontay "The Bronze Bomber" Wilder has an undefeated boxing record that consist of 32 wins, 0 losses, with all 32 wins coming by win of knockout.  Wilder has knocked out every fighter he has faced inside of 4 rounds so how will he fare if this fight go past 4 rounds?
 Check out these cool boxing t-shirts from the legendary fighters to the current great fighters. Own yours today!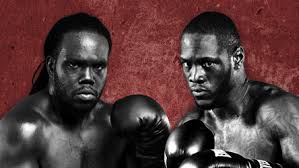 In Wilder last fight against an overmatched Jason Gavern back in August of 2014, Wilder knocked Gaven down twice en route to Gaven quitting on his stool at the end of the 4th round.  After that fight, Wilder, (in a round-a-bout way), stated that the Gavern fight was a tune-up fight en route to a shot at the heavyweight crown.
In Bermane "B.Ware" Stiverne's last fight back in May of 2014, he made boxing history when he stopped Chris Arreola in the 6th round of their rematch to capture the vacant WBC heavyweight title.  With the victory, Stiverne became the first Haitian fighter to ever win a world heavyweight title.
Now Stiverne and Wilder will meet at the MGM Grand in Las Vegas, Nevada on January 17, 2015 to see who will walk out the WBC heavyweight champion of the world.
So who wins?
Leading up to this fight, it is clear that these 2 fighters do not like one another which should make for an explosive fight. At the last press conference, the stare down alone between these 2 fighters was so intense that you had Stiverne and Wilder followers going back and forth chanting "And still!" and "The New!"
Just cannot wait for Saturday, January 17, 2015 to come any faster!
Check out these great boxing DVDs that will tell the story behind a fighter, fights, and events. Order one of these boxing DVDs today!
I expect for Wilder to come out aggressive early to try and overwhelm the champion with his power.  Remember, Wilder has never been past 4 rounds so I expect for Stiverne to realize this and come out of the gate by moving forward behind the jab with caution in hopes of getting past 4 rounds.
In a nutshell, this fight simply boils down to whether or not Stiverne can get past 4 rounds.  If this fight does not go past 4 rounds, then I feel that a New WBC heavyweight champion will be crowned in "The Bronze Bomber" Deontay Wilder. If the fight goes past 4 rounds, however, then I feel that the experience and boxing patience of Stiverne will show up and dominant in the later rounds en route to a late stoppage of the up and coming undefeated Wilder.
So, do I feel Wilder will overwhelm Stiverne, or will Stiverne's boxing patience win the night?  This is a very tough fight to predict, but if I have to ride with someone, I will ride with Stiverne given his great boxing pace.
Prediction: Stiverne by Technical Knockout
 If you need a good workout to performance gear, check out this great board and own your equipment today!
For more boxing news and articles continue to visit www.potshotboxing.com. If you like this post and other's from Potshot Boxing, feel free to spread the word to your favorite social media channels with your friends and family!! Potshot Boxing – "Boxing news and article bites for all walks of life."