Here is Potshot Boxing's Fight of the Month for June 2013!!
Adonis "Superman" Stevenson vs. "Bad" Chad Dawson
When "Bad" Chad Dawson entered the Bell Center in Montreal, Canada to defend his WBC light heavyweight crown against unknown Adonis Stevenson on June 8, 2013, he was still considered the best light heavyweight in the world despite his last fight back in September of 2012 in which Dawson briefly went down to the 168 pound division to challenge the super middleweight king Andre Ward in fight in which Dawson was stopped in the tenth round by Ward.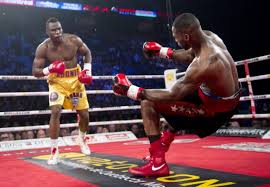 After the loss to ward, many in the boxing world could have easily given Dawson a pass because when the mega-showdown was made between Dawson and Ward, it was Dawson who was willing to budge and move down to Ward's weight division in order to make the fight happen, thus, many could say that Dawson was just not comfortable at 168 pounds on that disappointing September night, right?
So now this brings us to Potshot's fight of the month: Dawson vs. Stevenson.
Stevenson is known by boxing experts as a knock out artist but he has never fought a well rounded opponent such as Dawson. Stevenson fought his entire career in the super middleweight division so going into the fight with Dawson; he would be making his first trip into the light heavyweight division.  This fight was suppose to have been Dawson's redemption fight to put the boxing world on notice that, "hey, I am still the light heavyweight king People!" but someone should have told Stevenson this.
On June 8, 2013, Dawson once again entered the Bell Center in Montreal, Canada against another hometown favorite in Adonis Stevenson who is Haitian-Canadian so we all know that Dawson fighting a hometown favorite in Canada usually is not a good sign for "Bad" Chad.
In the first round of the fight both guys came out throwing the jab trying to feel each other out and just seconds after the fight got started, 58 seconds into the fight to be exact, Stevenson landed a perfect left hook shot to Dawson's jaw and Dawson fell to the canvas.  Dawson was able to get up from the shot at the count of eight, but Dawson's legs were still shaky and he seemed to still be out of it so the referee stopped the fight, thus, Stevenson shocked the boxing world with a stunning one punch TKO victory.  With the victory came the spoils as Stevenson is now not only the new WBC light heavyweight champion, but also the recognized light heavyweight champion.
During the post fight interview, Stevenson was overjoyed and ecstatic by his knockout victory as he claimed that the late great Emanuel Steward told him that if he ever got a chance to fight Chad Dawson or some of the other light heavyweights like Jean Pascal that he had what it took to knock those guys out easily.
Dawson was classy after the fight as he did not make any excuses.  He told HBO Analyst Max Kellerman that Stevenson caught him with a great shot.
In closing, there were a lot of good fights in the month of June that could have been chosen as Potshot's fight of the month, but the reason why I picked this one is because of the shock factor of this fight.  Stevenson instantly became a boxing sensation due to the way he knocked out the former light heavyweight king Chad Dawson, and I would like to see Stevenson fight one of the top light heavyweights in the future.
For more boxing news and articles continue to visit www.potshotboxing.com. If you like this post and other's from Potshot Boxing, feel free to spread the word to your favorite social media channels with your friends and family!! Potshot Boxing – "Boxing news and article bites for all walks of life."