The sport of boxing excelled tremendously in 2013 as there were more action fights in 2013 than there has been in a long time in the sport of boxing.  We witnessed a lot of great fights in 2013 along with a lot of upsets in 2013, which leads me to the top 5 fights Potshot Boxing would love to see in 2014.
1. Floyd Mayweather, Jr. vs. Manny Pacquiao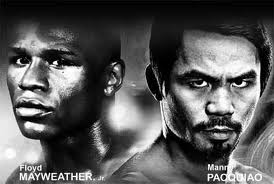 Photo Credit: sportsbycolin.com
Okay…okay…okay, I know I am probably beating a dead drum, but this is a fight that simply needs to happen for boxing.  All the people that I know and talk to still want to see if Pacquiao is the guy that can dethrone Mayweather so I hope that this fight will happen this year; in a perfect world I hope this fight happens in the fall of this year.
2. Adonis Stevenson vs. Sergey Kovalev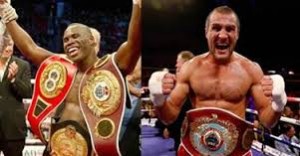 Photo Credit: facebook.com
Both of these fighters can be considered for Fighter of the Year honors this year and these two fighters can knock their opponents out with either hand.  What compels me about these two fighters is that both of these fighters can slug with great power; and also play the finesse boxing game with their opponents if they need to which makes b0th of these fighters so interesting.  I would love to see this fight in 2014!!
3. Gennady Golovkin vs. Sergio Martinez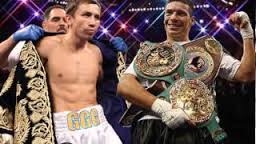 Photo Credit: hmongplus.com
Every up and coming middleweight will sooner or later have to graduate from the contender ranks and challenge Sergio Martinez for middleweight supremacy.  Gennady Golovkin has all of the boxing skills and unbelievable power to take over the middleweight division and beyond.  I would love to see the boxing gameplan that Martinez will bring to the ring against such a patient and powerful fighter like Golovkin.  This fight would make for a tasty treat for boxing fans in 2014 if the fight is made.
4. Marcos Maidana vs. Ruslan Provodnikov
Photo Credit: boxingscene.com and 3morerounds.com
If this fight happens next year, it would definitely be considered for 2014's fight of the year.  Both of these fighters will bring the fight to each other which will make for an explosive fight for however long this fight will last.  Maidana is an all-action fighter; Provodnikov is an all-action fighter.  This is the type of fight that the whole boxing world would want to see given that everyone involved would get their money's worth!!
5. Andre Ward vs. Carl Froch 2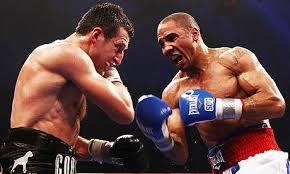 Photo Credit: theguardian.com
This would definitely be a great fight if these two fighters decide to get it on again.  Ward won the Super Six Championship over Carl Froch, but I feel that Froch can do a lot better against the number 2 pound for pound fighter in the world if given a second opportunity.  Can Froch really win the rematch against Ward? Not sure, but I would love to see the aggressive Froch give Ward all he can handle as Froch has been the most impressive super middleweight in 2013 outside of Andre Ward.
Conclusion
All of the dream fights mentioned above can all possibly happen in 2014 which could make for an even better year of boxing than 2013 given that a lot of question would be answered in those types of fights as to who will belong in the pound for pound discussion for years to come.