Here is Potshot Boxing's (PSB) Fight of the Month for December 2014!
Adonis "Superman" Stevenson did not give the boxing fans a showdown with Sergey "Krusher" Kovalev in 2014 so he had to settle for a very tough Dmitry "The Hunter" Sukhotsky.
Heading into Colisee de Quebec in Quebec City, Canada, Adonis Stevenson knew that if he could get past Sukhotsky, a big fight in 2015 with the winner of the Sergey "Krusher" Kovalev vs. Jean Pascal fight awaits him.
With that in mind, Stevenson wanted to impress the boxing world with a great performance and he did not disappoint.  In the 1st round of that fight, Stevenson started out trying to use his jab in hopes of controlling the tempo of the fight.  Sukhotsky started out by moving forward and also tried to get control of the tempo of the fight.  The 1st round was simply a feel out round which did not sit well with Quebec City boxing crowd.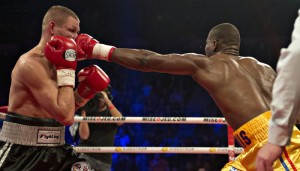 Get an installment loan up to $2500 today! Click Here!
In the 2nd round, Stevenson stepped up the pace a little bit by throwing the straight left hand more while Sukhotsky was trying to throw back.  The straight left hand would finally get through in the 2nd round as Stevenson caught Sukhotsky with a short left hand that sent Sukhotshy down to the canvas for only the 2nd time in his professional boxing career.
In the 3rd round, Sukhotsky continued to throw a looping jab that seemed to bother Stevenson a little.  That looping jab, however, would lead to Sukhotsky getting caught with a counter straight left hand by Stevenson time after time in the 3rd round.  Sukhotsky found some daylight in the 3rd by landing a good uppercut on the inside on Stevenson, but Stevenson's left hand continued to win the night.
The 4th round would showcase Stevenson's good body work as his left hand moved from Sukhotsky's head to his body.  Sukhotsky did not do much in the 4th as he continued to get hit by Stevenson's good left hand.
On to the 5th round.  In the 5th, Sukhotsky picked his pace up a little as he pressed forward and threw jabs.  Eventhough Sukhotsky was pressing forward, Stevenson would continue to pepper Sukhotsky with not only left hands, but now Stevenson started to mix in some good combinations to the body that gave Sukhotsky a lot of trouble.
Stevenson's good body work would pay off as he landed a solid right to Sukhotsky's body followed by a hard counter left hand to head that sent Sukhotsky crashing to the canvas for the 2nd time in the fight.  Sukhotsky would shake the cobwebs out and beat the 10 count by the referee, but it was all for not.
Take home the iPhone® 6 Plus, details apply.
Just seconds after the getting up off of the canvas for the 2nd time in the fight, Stevenson would catch Sukhotsky with another brutal straight left hand that sent Sukhotsky back to the canvas for a 3rd time.
Sukhotsky would once again shake off the cobwebs and continue to fight, but Stevenson poured on the pressure as he hit Sukhotsky with brutal jabs, hooks, and uppercuts.  Stevenson would end the night by catching Sukhotsky again with another brutal straight left hand that sent Sukhotsky to the canvas for good.
Adonis "Superman" Stevenson was awarded the 5th round KO victory, thus defending his WBC light heavyweight title once again.
Conclusion
Stevenson wanted to look impressive for the boxing world and you have to give him credit for embracing the pressure of winning this fight to set up a big fight in 2015.
There are a lot of fighters at 175 pounds that can fight Stevenson in 2015, but let's not kid ourselves Boxing World, we all know that in 2015 we want to see Adonis "Superman" Stevenson vs. Sergey "Krusher" Kovalev to see who indeed is the best light heavyweight in the world.  I feel that Kovalev will beat Pascal in March so Stevenson and Kovalev, LET'S GET IT ON!
Get the Undisputed Truth by Mike Tyson here at PSB. Own it today!
For more boxing news and articles continue to visit www.potshotboxing.com. If you like this post and other's from Potshot Boxing, feel free to spread the word to your favorite social media channels with your friends and family!! Potshot Boxing – "Boxing news and article bites for all walks of life."