Timothy Bradley vs. Ruslan Provodnikov
What a fight this turned out to be given that Timothy Bradley simply did not stick to the fight game plan  his camp had instituted going into the fight which was to box the aggressive Provodnikov, use his elusive boxing skills and cruise to an easy unanimous decision victory.
Bradley, however, was still steaming from his last fight when he upset the great Manny "PacMan" Pacquiao in a fight which most boxing fans and experts felt that Bradley did not win; so going into the fight with Provodnikov, Bradley did not want to box, he just wanted to fight.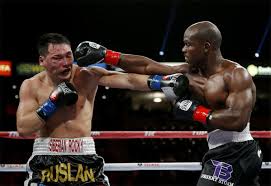 Photo Credit: ringtalk.com
These two warriors simply connected with brutal shot after brutal shot with each other for 12 rounds and in some points of the fight, it was hard to watch the punishment that was being dished out by Bradley and Provodnikov.
Early on in the fight, Provodnikov caught Bradley with a vicious power shot that sent Bradley down.  Bradley got up off of the canvas, but he was clearly out on his feet.  Bradley gained a lot of the boxing world's respect when he fought Provodnikov off shear instincts in the round that he was out on his feet and survived the round.
Bradley took so much punishment early on in that fight, I felt that Provodnikov would finish Bradley, thus, proving to the boxing world that his win over the great Manny "PacMan" Pacquiao really was a fluke. Boy was I wrong. Bradley cleared his head and for the rest of the night, he took more hard power shots from Provodnikov, but he was able to start using his legs to move out of the way of a lot of Provodnikov's fireworks and landed some hard power punches of his own.
These two fighters rocked each other all night long as this fight reminded me of the best fight I ever seen which was the first fight between the late great Diego "Chico" Corrales and Jose Luis Castillo back in 2005.
In the end, both of these fighters needed serious medical attention after their brutal war in the ring with each other, and Bradley fought back to win a 12 round unanimous decision victory over Provodnikov.
Conclusion
After this great, great fight, both of these fighters propel themselves into superstardom as Bradley went on to shake the cobwebs out from the Provodinokov fight and put on one of the best performance of his boxing career when he beat the great Juan Manuel Marquez in October of 2013.
One week after Bradley's conquering of Marquez, Ruslan Provodnikov went on to use his aggressive boxing style to bully and punish Mike Alvarado as Provodnikov defeated Alvarado by 10th round RTD victory because Alvarado was did not come out for the 11th round.
Fights like the one boxing fans witnessed in March of 2013 between Timothy Bradley and Mike Alvarado are definitely the kinds of fights boxing fans clamor to witness.  Looking forward to see which fighters will step into the ring and give us another blood and guts type of fight in 2014.
For more boxing news and articles continue to visit www.potshotboxing.com. If you like this post and other's from Potshot Boxing, feel free to spread the word to your favorite social media channels with your friends and family!! Potshot Boxing – "Boxing news and article bites for all walks of life."