Check out which fight was chosen for Potshot Boxing's Fight of the Month for October 2013!!
Free and Fast Auto Finance Application – All Credit Accepted
Ruslan Provodnikov vs. Mike "Mile High" Alvarado
What a great fight the boxing world witnessed on October 19, 2013 as Ruslan Provodnikov and Mike "Mile High" Alvarado put on the classic brawler vs. boxer-puncher kind of fight in the Mile High state that is Colorado.
Both fighters entered the ring on that night knowing that a win would propel the winner to a potential big fight with one of the top fighters in either the junior welterweight or welterweight division.
It is really funny how the outcome of this fight turned out given that the right game plan was implemented by both training camps, but one game plan simply got blown up by the other, even though it was the right game plan for the fight.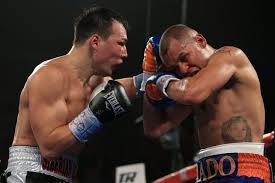 Photo Credit: uk.eurosport.yahoo.com
The fight starting out just like I thought it would as Alvarado used his jab and boxed the aggressive Provodnikov, but I did not know that he was going to use the entire ring to try and avoid the aggressive advances of Provodnikov in the process.  This boxing approach by Alvarado did actually work during the early rounds as Alvarado was able to counterpunch Provodnikov effectively with jabs and uppercuts that gave Provodnikov some trouble early on in the fight.
Get this great Immortal "Iron" Mike Tyson T-Shirt! Click here.
When I talked about a fighter whose training camp had the right fight game plan for a fighter; I was pointing to Alvarado because in this fight, his game plan was simply to fight smart and counterpunch Provodnikov en route to an easy victory, right?  Well, I also said that Provodnikov's training camp had the right game plan for Alvarado as Provodnikov's training camp only have really one game plan for the aggressive Provodnikov; and that is just to go straightforward and destroy Alvarado at every turn in this fight.
This is exactly what happened in this fight as Alvarado planned on playing it safe by just sitting back and boxing his way to an easy decision, but Provodnikov's extreme pressure in this fight derailed any possibility of Alvarado succeeding with that play it safe game plan as Provodnikov's amazing will shined through as he walked through all of the spitfire that Alvarado was dishing out and delivered his own brut punishment on Alvarado as he forced Alvarado to change his safe game plan, and made Alvarado play that dangerous brawling game with him.
As a result of brawling instead of boxing with Provodnikov, Alvarado found himself getting into trouble with Provodnikov; much like he did in his first fight with Brandon "Bam Bam" Rios as Provodnikov proceeded to impose his will on Alvarado in the middle rounds of this fight and hurt Alvarado with multiple power shots that left Alvarado's legs doing the noodle walk.
The 8th round of this fight was one of the best rounds of 2013 in my opinion as Provodnikov's constant pressure finally got to Alvarado as Provodnikov dropped Alvarado twice in this round, but Alvarado showed a lot of courage as he fought back and landed some great power shots of his own on Provodnikov which produced fireworks as the crowd roared in appreciation for these two combatants.
Free and Fast Auto Finance Application – All Credit Accepted
Alvarado survived the 8th round, but Provodnikov would eventually close the show in the 10th as he just continued to plug away and chase down Alvarado and beat Alvarado up every chance he got to corner Alvarado and unleash punishment.
Due to the accumulation of punishment after the 10th round, Alvarado was unable to answer the bell for the 11th, which resulted in Provodnikov winning the fight by a 10th round TKO victory and becoming the new WBO junior welterweight champion.
Conclusion
This was a great fight!!  It proves once again what Mike Tyson said years ago, "everyone has a plan until they get hit."  This truly comes to mind when you think about this fight because Alvarado and his training camp had a simple game plan of playing it safe and simply boxing Provodnikov, but in the end, Provodnikov used the only game plan that he knows which is sheer aggressiveness to simply brake Alvarado's will and take Alvarado's WBO junior welterweight title in the process.
Provodnikov is one of those action fighters that the boxing world is going to want to see every time he fights because he only has one gear and that is full speed ahead.  He is the type of fighter that should be beaten easily by a pure boxer, but his sheer willingness to walk through whatever medicine that is dished out to him makes him a very intriguing and dangerous fighter.  Whoever he fights going forward the boxing world will always get their money's worth.
As for Mr. Mike Alvarado, he is still going to be a great fighter in this great sport of boxing, but he and his trainer need to go back to the drawing board and work on learning how to deal with overwhelming pressure fighters.
Get this great Immortal "Iron" Mike Tyson T-Shirt! Click here.
For more boxing news and articles continue to visit www.potshotboxing.com. If you like this post and other's from Potshot Boxing, feel free to spread the word to your favorite social media channels with your friends and family!! Potshot Boxing – "Boxing news and article bites for all walks of life."