Manny "PacMan" Pacquiao vs. Brandon "Bam Bam" Rios Well what can I say?  Any fight the great Manny Pacquiao is involved in will instantly be considered as Potshot Boxing's Fight of the Month!! Going into the fight on November 23, Manny had a lot of questions that needed to be answered.   The first question that needed to be answered was whether or not he truly recovered physically and mentally from his shocking knockout loss to the great Juan Manuel Marquez, and second; did Pacquiao still have his passion for the sport of boxing intact.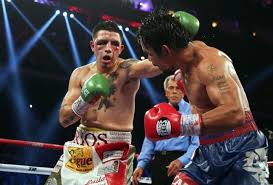 Photo Credit: bleacherreport.com
As for Brandon Rios, he was heading into the fight on November 23 in China with the purpose of getting back on the winning track after suffering the first loss of his professional boxing career to Mike Alvarado; and also using his great effective pressure to try and knockout Pacquiao, thus, in Rios' eyes, he would be the one who would retired the great Manny Pacquiao.
So before the fireworks happened on November 23, you have a fighter who the boxing world needed a lot of questions answered from in Pacquiao; and a fighter who have the opportunity to not only get back on the winning track, but in the process propel himself into superstardom with more big fights on the horizon in Rios.
Both of these fighters had a lot to gain in this fight, but Pacquiao had more to lose in this fight than Rios going in because another loss by Pacquiao, especially if he gets knocked out by Rios, can close the door on any meaningful big fights in the future for the PacMan.
So on to the fight!!
Rios started off the fight trying to establish his left jab, but Pacquiao's speed overwhelmed Rios as Pacquiao banged Rios to the head and body with hard shots, combinations, and that signature straight left hand. Pacquiao did a great job in this fight moving side to side and in and out; using those angles to make it hard for Rios to find the target.  Rios was a little too cautious in this fight as he did not really open up until the middle rounds of this fight.
Rios used the early rounds to continue to set something up with the jab in hopes of landing something big on Pacquiao. Rios caught Pacquiao with some hooks and his straight left jab in this fight, but again, Pacquiao's speed was just too much for Rios the entire night.
When the fighters were in the clinch, Rios did some great work in the inside by hitting Pacquiao with his free hand to the head and body while the two fighters were in the clinch. Pacquiao circled Rios the whole night and Rios was a sitting duck for the PacMan's onslaught as Rios continued to come forward, but there was no head movement by Rios; and Pacquiao just ripped Rios with hard punches to the head and body because of it.
As the fight went on, Rios had some success in the middle rounds by throwing some hard combinations to the body of Pacquiao, but Pacquiao made Rios pay for a lot of those combinations as again, Rios was just too stationary for Pacquiao which resulted in Rios sustaining more punishment from Pacquiao.
The damage that Pacquiao landed on Rios started to show in the 7th round as Rios' face started to swell up as a result of the punishment he was taking from Pacquiao. For the remainder of the fight, Pacquiao used that unbelievable speed to close the show as Pacquiao threw combinations and more combinations to the stationary Rios; as Rios continued to get his body and face busted up.
Rios simply could not handle Pacquiao's speed. Pacquiao was awarded the easy 12 round unanimous decision victory.
Conclusion
This was a great one-sided fight as Pacquiao simply dominated Rios in spectacular fashion even though Pacquiao did not get the knock out.
So back to those earlier questions the boxing world needed answered by Manny Pacquiao; has Pacquiao truly recovered from that brutal knockout loss to the great Juan Manuel Marquez last year, and does Manny Pacquiao still have a passion for the sport of boxing?
Well the answer is yes and yes!! Pacquiao's speed in this fight with Rios was simply phenomenal!!
Pacquiao showed the boxing world that, yes, he is not done with the sport of boxing yet; and yes, he is ready for whoever wants to deal with his relentlessness and unbelievable speed!! Pacquiao simply punished Rios from start to finish in this fight.  It was a complete shutout in most boxing critic's eyes, and Pacquiao his instantly propelled himself back into the best pound for pound boxer conversations.
Rios was a very tough opponent for Pacquiao and he deserves credit for showing a lot of heart and determination as he hung in there with Pacquiao when most fighters would have quit after taking such punishment. As for Rios, he will draw big fights in the future due to his exciting straightforward boxing style.  Furthermore, anybody who states that getting hit by a punch is better than sex as Rios stated on HBO's Faceoff with Max Kellerman during the buildup of this fight, you have to put this guy in front of the boxing world!!
As for the great Manny Pacquiao, in a perfect world, I am sure most of the boxing world would love to see the PacMan square off against Floyd "Money" Mayweather to prove once and for all who is the best boxer in the world; but just not sure if Manny's promotional company Top Rank Boxing is ready for such a showdown yet so the boxing world will just have to wait and see which fighter will be next in line to deal with the brutal onslaught of the great and humble Manny Pacquiao.
For more boxing news and articles continue to visit www.potshotboxing.com. If you like this post and other's from Potshot Boxing, feel free to spread the word to your favorite social media channels with your friends and family!! Potshot Boxing – "Boxing news and article bites for all walks of life."