Jhonny Gonzalez vs. Abner Mares
Abner Mares had all of the momentum going into the StubHub Center in Carson, California this past August 24th as he was looking to rise to super stardom with a win over veteran Jhonny Gonzalez.
Mares probably could have written his own ticket with a win, but the ever so dangerous Jhonny Gonzalez had other plans.
Gonzalez also had something to prove going into this fight because if Gonzalez can somehow pull off the upset and take Mares' WBC featherweight title in the process, he would find himself right back in the mix for huge fights in the featherweight division.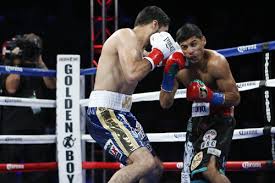 Photo Credit: poundforpound.com
When I made a prediction for this fight, I felt that Mares had all of the tools to take the next big step to becoming "the guy" in the featherweight division given that he effectively applies pressure to his opponents, but for this fight I remember saying that Mares should try and box more instead of being so aggressive given that Gonzalez was so dangerous and Gonzalez will attempt to knock him out early.
In round 1 of this fight both fighters came out aggressive which I thought would be a mistake for the anxious Mares.  Mares got caught with a vicious power punch by Gonzalez in the 1st round of this fight, but when he rose from the knock down, Mares did not tie up Gonzalez, and I have to say in most cases pride can get you in a lot trouble in the boxing ring as Mares tried to fight his way out of trouble instead of tying up Gonzalez.
As a result of not tying Gonzalez up, Mares was knocked down again by another crushing shot from Gonzalez and the referee stop the fight as Gonzalez made the boxing upset a reality as he captured the WBC featherweight championship from Mares.
Conclusion
Like I said recently, I would really like to see these two fighters get it on in a rematch given that the boxing world will never know what type of fight this could have turned out to be if Mares would have just held on to Gonzalez when he got caught with a power punch and was seriously hurt.
I picked this fight as Potshot's fight of the month; not because of the devastating knockout that Mares received at the hands of Jhonny Gonzalez, but because of the potential of a great fight that could have broken out if Mares would have survived that brutal first round.
As for right now, however, Gonzalez is the new WBC featherweight champion and all of the cards are in his favor now so he can choose to fight whoever he wants.  I am not sure if there was a rematch clause in the contract of the Mares/Gonzalez fight, but I am sure myself and the rest of the boxing world would love to see if Mares can get a rematch and show us what he is really made of after losing his first professional fight.