"Vicious" Victor Ortiz vs. Luis Collazo
There were a couple of other fights that could have dawned the title "Potshot Boxing's Fight of the Month for January 2014," but I chose this fight to be Potshot Boxing's fight of the month simply because of the wow factor!!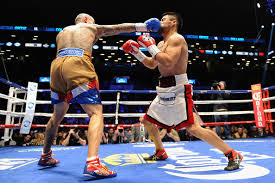 Photo Credit: zimbio.com
Going into the fight, Ortiz was coming off a year and a half layoff after getting his jaw broken by Josesito Lopez in his last fight; while Luis Collazo was riding a 3 fight win streak dating back to October of 2012.  Ortiz would take on the challenge of leaving the west coast and traveling east to a hostile Collazo based crowd at the Barclays Center in Brooklyn, New York to fight Collazo in his back yard.
This fight was definitely a fight that would put the winner back into the spotlight with an opportunity to score a big fight in the near future; while the loser of this fight would probably be eliminated from welterweight title contention for a long time, so a lot was at stake going into the fight for both of these fighters on January 30.
Both fighters started off the fight in the 1st round seeking and destroying the body as both fighters landed vicious shots on each other's body.  Ortiz seemed anxious the whole night as it seemed as though he was looking to land one big shot on Collazo to end the night.
Collazo was very comfortable during the fight as he invited Ortiz to bring the pressure so that he could get off some power punches of his own.
The 1st round ended with both fighters having success landing some nice shots on each other as it seemed like the boxing world was going to be in for a nice fight that would probably last a few rounds before one of these fighters would slip and get knocked out.  Boy was I wrong!!
In the 2nd round, Ortiz continued to be the aggressor in the fight as he used his anxious pressure on Collazo in hopes of landing something big on Collazo to end the night.  Collazo was able to capitalize on Ortiz's aggressiveness as he was able to land some good power shots of his own on Ortiz.
As the 2nd round was coming to a close, Ortiz threw a big left hook that would have done damage to Collazo if it would have landed, but Ortiz missed Collazo with the big left hook and Collazo countered Ortiz with a devastating right hook that sent Ortiz staggering to the canvas as Ortiz seemed out on his feet. The referee counted out Ortiz with 1 second left to go in the 2nd round as Ortiz was unable to beat the 10 count.
Collazo was awarded the impressive 2nd round knockout victory.
Conclusion
Well Collazo has given great fighters trouble in the past so it was not a real shock to see him do what he did to Ortiz on that action packed night in Brooklyn.  During the post fight interview, Collazo stated that he wants Mayweather to leave Las Vegas and come to Brooklyn and fight him.
Really not sure who Collazo will  fight in the future, but this stunning knockout of Ortiz will definitely have boxing fans looking forward to see who Collazo will fight next.
As for "Vicious" Victor Ortiz, I am really not sure what lies ahead for him.  He is so young at the age of 27 years old so I do not think he should retire at the moment, but this makes the 3rd straight fight that Victor has lost dating back to 2011 so that does give the boxing world a cause to pause.
No matter what Ortiz decides to do in his future, he is an action fighter and boxing fans would love to see him fight again, given that it's either knock out or be knocked out in just about all of his fights.
For more boxing news and articles continue to visit www.potshotboxing.com. If you like this post and other's from Potshot Boxing, feel free to spread the word to your favorite social media channels with your friends and family!! Potshot Boxing – "Boxing news and article bites for all walks of life."