Here is Potshot Boxing's Fight of the Month for May 2014!!
"The Moment" Floyd Mayweather, Jr. vs. Marcos Maidana
Okay, is there any question as to which fight won Fight of the Month for May 2014? Whenever the Pound for Pound King Floyd Mayweather, Jr. is fighting, no matter how boring or how epic the fight may be; his fight will be Potshot Boxing's Fight of the Month.
This epic extravaganza between Floyd "Money" Mayweather, Jr. and Marcos "El Chino" Maidana almost did not happen due to what occurred after the fighters weigh-in which is the evening before the fight.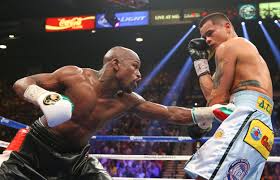 Photo Credit: aol.com
Behind the scenes there was a discrepancy as to which boxing gloves were going to be worn by the fighters on fight night. With that said, Mayweather and his advisor Leonard Ellerbe claimed that Maidana's boxing gloves did not have padding in them and vowed that if Maidana's camp did not wear the same boxing gloves that Mayweather was going to be wearing on fight night, then Mayweather would not fight and the fight would have been cancelled.
Maidana's camp agreed to wear the same boxing gloves as Mayweather so problem solved, that fight would go on, but now I see why Mayweather and Ellerbe were a little worried about Maidana gloves.
Now that the glove controversy is resolved, here is what happened at the fight.
The crowd at the MGM Grand was the same as it always is when the Pound for Pound King is set to dawn the ring and this is super electric. The Maidana fans were pumped; shouting out there Argentinian melodies as Maidana Made his way to the ring. The chants by Maidana's followers were so loud you can hear them outside of the MGM Grand.
Meanwhile, the Floyd followers were just as pumped as they watched the Pound for Pound King come out to the ring with his usual entourage consisting of Singer Justin Beiber and Rap Sensation Lil' Wayne.
There was one other caveat, however, that the boxing world was not expecting from Mayweather's ring entrance that night, and that is a herd of clowns and jugglers, and other circus acts as for this fight, Mayweather decided to have a circus perform during his ring entrance.
The fight plan for Maidana was to simply go in the ring and make the fight as ugly and uncomfortable as possible for Mayweather by throwing a lot of punches; and smothering and mugging Mayweather at every turn in the fight.
The fight plan for Mayweather was simple and that is be the matador to the bull and simply counterpunch, box, and be aggressive late.
In the 1st round, Maidana's fight plan seemed to be working as he came out from the opening bell throwing huge shots most noticeably the overhand right in hopes of catching Mayweather with something big. Maidana did a great job of smothering Mayweather's offense for the first half of this fight as he used his aggressiveness to back Mayweather into the ropes every chance he got and just started throwing awkward punches from all types of angles.
Maidana's aggressiveness would cause to two fighters to clash head in the 4th round, and for the first time ever in his professional boxing career, Floyd Mayweather, Jr. was cut in a fight.
Going into the 7th round, a lot of experts had this fight scored even as Maidana's aggression was working, but those sneaky left jabs to Maidana's body would prove to be the recipe for the turning point late in the fight as Maidana's feverish pace would slow down just enough for Mayweather to start timing Maidana when he tried to get inside on Mayweather which allowed Mayweather to catch Maidana with crisp, accurate counterpunches that were easy to score.
Mayweather also starting to throw accurate combinations to the body as Mayweather would take over the second half of "The Moment."
Maidana just kept coming after Mayweather for the rest of the fight and he did any and everything to try to dethrone Mayweather as he hit Mayweather low on a couple of occasions, kneed Mayweather when Mayweather's head was down in the clinch, and he even tried some WWE tactics by literally tackling Mayweather into the ropes which almost ended up in a catastrophe as the two fighters almost went out of the ring.
Maidana's trainer Robert Garcia encouraged Maidana to do those nasty tactics as the point that was being made was not to respect the champion as a lot of other fighters have done in the past against Mayweather, and Maidana graduated with honors because he refused to give Mayweather any respect which made this such a great fight!!
In the end, the Pound for Pound King weathered the dirty, yet effective aggression by Maidana to win the night with accurate counterpunching, lead rights, and combinations.
Mayweather was awarded the 12th round majority decision victory over Maidana which proved to be one of the toughest and hard fought fights of Mayweather's legendary career.
Mayweather captured Maidana's WBA welterweight title and retained his WBC and Ring welterweight titles.
Conclusion
What a great fight the MGM Grand Crowd and the boxing world got to witness!!
The boxing world has not seen Floyd Mayweather, Jr. in a tough fight like that in a long time.
Maidana think that he won that fight as he still does not respect Mayweather even after the fight; Mayweather won the fight, but was pushed to the limit by a very determined Maidana so the boxing world deserves an encore; but the question will be whether or not Mayweather gives Maidana a rematch?
For more boxing news and articles continue to visit www.potshotboxing.com. If you like this post and other's from Potshot Boxing, feel free to "Spread the word" to your favorite social media channels with your friends and family!!