Manny "PacMan" Pacquiao
Manny Pacquiao is Potshot Boxing's Comeback Fighter of the Year for 2013 simply because he had the most questions that needed to be answered prior to stepping back into the ring after his shocking KO loss to the great Juan Manuel Marquez in December of 2012.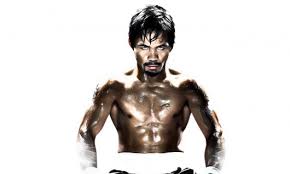 Photo Credit: boxing.com
Boxing fans and experts wondered which Manny Pacquiao would show up in China to fight Brandon Rios in November of 2013; a shot fighter who was brutally knocked out or a fighter who still has a lot left to give to the sport of boxing?
Well, the PacMan did not disappoint the boxing world as he came back and simply punished Brandon Rios for 12 rounds en route to a 12 round shutout unanimous decision over Rios.
Pacquiao simply turned Rios the whole night by moving and hitting Rios with combinations and power shots; while moving out of harm's way as he did not allow for Rios to get his power shots off.
Conclusion
After such a brutal knock out, Pacquiao did the smart thing and took the proper time away from boxing to recover before returning to the ring unlike a lot of boxers who would have fought again 3 to 4 months after a brutal knockout.
Pacquiao's performance in November of 2013 was so great that now the talks of fighting Floyd Mayweather, Jr. are now back on the table for a lot of boxing fans.  Pacquiao proved to the boxing world that not only is he still one of the best pound for pound fighters in the sport, but he also still has that great speed and boxing skills to continue to compete at a pound for pound level.
For more boxing news and articles continue to visit www.potshotboxing.com. If you like this post and other's from Potshot Boxing, feel free to spread the word to your favorite social media channels with your friends and family!! Potshot Boxing – "Boxing news and article bites for all walks of life."