There is no question as to which fighter has cemented Potshot Boxing's 2013 Fighter of the Year honors.  His name is Adonis "Superman" Stevenson.
What a great year Adonis Stevenson gave to the boxing world in 2013 as he fought 4 times this year and each and every one of his fights this year ended in impressive fashion.
Stevenson began his impressive 2013 boxing campaign in March of 2013 avenging the only loss of his professional boxing career when he repaid a knock out to Darnell Boone in round 6 of their rematch.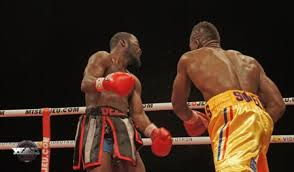 Photo Credit: sportenote.com
Stevenson would then go on to challenge "Bad" Chad Dawson for Dawson's WBC and RING light-heavyweight championships in June of 2013.  Dawson was recognized as the best light-heavyweight in the world by most boxing critics at the time.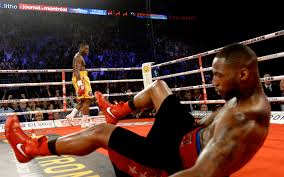 Photo Credit: roundbyroundboxing.com
In the first round of the Stevenson/Dawson fight, Stevenson landed a devastating left hook to Dawson's head that sent Dawson crashing to the canvas.  The referee stopped the fight and Stevenson was awarded the upset victory over Dawson and became the new WBC light-heavyweight champion and in the process put the boxing world on notice.
After the Dawson fight, Stevenson went on to make his first defense of the WBC and RING light-heavyweight titles against the former IBF light-heavyweight champion Tavoris Cloud.
Now, Stevenson knocked out "Bad" Chad Dawson in one round so the boxing world really did not know how Stevenson will perform against another good legit light-heavyweight in Cloud.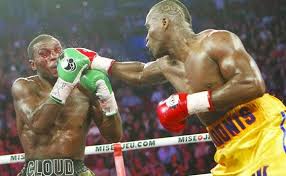 Photo Credit: themorningnewsaruba.com
Well, Stevenson did not disappoint, as he showed the boxing world in his fight with Cloud that he can not only brawl and knock out his opponents, but his is surprisingly a good boxer as he impressed many boxing critics in this fight as he simply picked Cloud apart with his jabs and power punches en route to Cloud retiring on his stool at the end of the 7th, unable to come out for the 8th round.
Stevenson was awarded the 7th round RTD victory.
Stevenson would finish his impressive 2013 boxing campaign in late November of 2013 by making the 2nd defense of his WBC and RING light-heavyweight titles against Tony Bellew.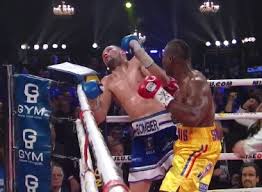 Photo Credit: boxingnews24.com
There was a lot of bad blood between these two fighters going into to the fight, but in the end, Stevenson would once again impressed the boxing world as he used his good boxing skills and great power to close the show in the 6th round with an impressive TKO victory as the referee saved Bellew from getting seriously hurt after getting hit with an explosive power shot from Stevenson.
Conclusion
Stevenson put together one of the best years a boxer could ever ask for in one year.  He beat 2 world light-heavyweight champions in "Bad" Chad Dawson and Tavoris Cloud, and 2 very good light-heavyweights in Darnell Boone and Tony Bellew for a total of 4 legit light-heavyweights which makes Stevenson the number 1 guy in the light-heavyweight division.
Sky's the limit in 2014 for Adonis "Superman" Stevenson as he has a huge opportunity to enter into the pound for pound discussions if he continues to knock out his opponents and use his good boxing skills.  I would like to see Stevenson fight the other dangerous light-heavyweight in the division Sergey Kovalev in 2014 which I feel would be a huge pay-per-view extravaganza if these two combatants collide.
Cannot wait to see how Adonis "Superman" Stevenson will entertain the boxing world in 2014!!