Darren Barker gets up from the canvas in the 6th round to whether the "Real Deal" storm and in the process captures the IBF middleweight championship!!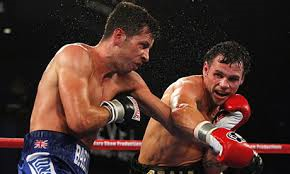 Photo Credit: theguardian.com
What a fight!!  I guess Daniel Geale is not the "Real Deal" after all.  This fight could have went either way, but in the sixth round of this fight I personally saw something that I have never seen in the history of myself watching boxing, and that is a fighter actually getting up off of the canvas from a liver shot.
When Barker got caught from the liver shot in the sixth, I was like, "Oh my goodness, it's over, Barker is not getting up."  Boy was I wrong!!  Barker not only got up from the liver shot, but he slugged it out with Geale and boxed with Geale; and in my opinion won the majority of the later rounds to reel in the IBF Crown.
To paraphrase the Great Roy Jones, Jr. who was sitting at ringside calling the fight this evening; it was a fighter in Barker who had experience in fighting top notch opposition in the middleweight division, opposed to Geale, who simply did not.
In the end, Barker seemed like he was fighting for his life tonight!!  I still am in shock from him getting up from that liver shot in the sixth.  My hats off to Barker for his never quit attitude and giving the boxing world yet another great fight to talk about for years to come.