Check out Potshot Boxing's (PSB) Store for cool t-shirts, hoodies, hats, mugs, and other great merchandise!  All of this great merchandise is available and enjoyable for all.
No matter if you are a Man, Woman, or Child, the Potshot Boxing (PSB) Store has cool items for all to enjoy!  If you are a fan of Potshot Boxing.com, then I invite you to show your support by purchasing some cool Potshot Boxing merchandise.
Just click on the any of the red links above or the Potshot Boxing banner below, and it will take you to the Potshot Boxing (PSB) Store where you can explore all of the cool items that are displayed in the store.
Thank you all so much for your continued support of Potshot Boxing (PSB), and I look forward to continuing my efforts to provide the boxing world with quality current boxing news, articles, and true insight into the beautiful sport of Boxing!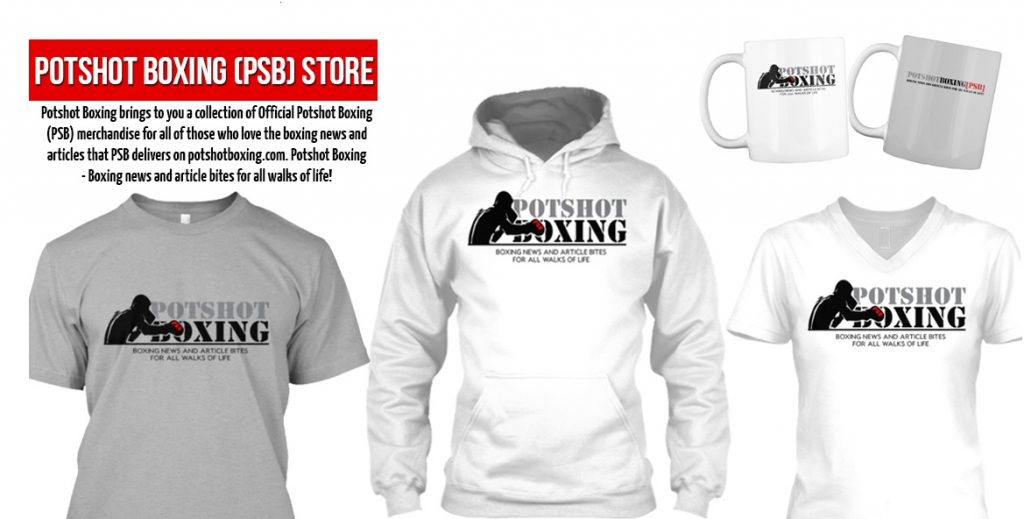 If you like this post and other's from Potshot Boxing, feel free to subscribe to this boxing website by entering your email address into the floating email form provided on this post! Potshot Boxing – "Boxing news and article bites for all walks of life."