Here are the 5 top dream fights that Potshot Boxing (PSB) would love to see in 2015!
The year 2014 showcased a lot of fighters who had their boxing coming out parties such as Terence "Bud" Crawford, Nicholas "Axe Man" Walters, Sergey "Krusher" Kovalev, and Roman "Chocolatito" Gonzalez.  The boxing world, however, did not get the big fights that we really wanted to see.
It was an excellent boxing year for 2014, but here are some dream fights that Potshot Boxing would like to see happen in 2015.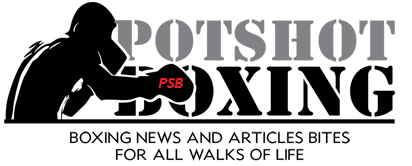 Check out Dr, Phil's new book The 20/20 Diet: Turn Your Weight Loss Vision Into Reality.  Own your copy today!
Floyd "Money" Mayweather, Jr. vs. Manny "PacMan" Pacquiao
This is the number 1 fight that needs to happen in 2015, and quite frankly, the biggest dream fight in years!  Floyd Mayweather, Jr. needs to fight Manny Pacquiao if he wants to be considered one of the best fighters of all time.  Manny Pacquiao does not need to fight Floyd to cement his legacy because Manny has fought everyone who has challenged him.  If this fight does not happen this year it will never happen!
Sergey "Krusher" Kovalev vs. Adonis "Superman" Stevenson
I am going to cheering like crazy for Sergey Kovalev when he enters the Bell Center in Montreal, Quebec, Canada to face Jean Pascal in March. If Kovalev can get past Pascal, then the boxing world will get to see the fight that should have happened last year, and that is the 2 best light heavyweights in Stevenson and Kovalev getting together to fight for light heavyweight supremacy.
Marcos "El Chino" Maidana vs. Ruslan "Siberian Rocky" Provodnikov
It is a huge possibility that Keith "One Time" Thurman may get a crack at Marcos Maidana in 2015, but my dream fight has always been 2 surefire all action fighters like Maidana and Provodnikov getting together in a flat out blood and guts style fight.  Maidana….Provodnikov…I am talking to you, think about it, this fight will put boxing fans in seats.
Andre "S.O.G." Ward vs. Carl "The Cobra" Froch 2
I am not sure when Andre Ward will return to the ring, but if he returns in 2015, I would like to see him in a rematch against Carl Froch.  After losing the Super Six Final to Andre Ward, Froch has won his last 5 fights by stopping 4 of his last 5 opponents while capturing 2 world super middleweight titles in the process.  I would love to see Froch get another crack at the 2nd best pound for pound fighter in the world to see whether or not he can upset the apple cart.
Gennady "GGG" Golovkin vs. Miguel "Junito" Cotto
Gennady Golovkin just destroyed some decent fighters in 2014.  After his last fight, Golovkin expressed that he would like to fight Cotto in the near future.  This is definitely a fight that I would like to see given that Cotto is back as the body punching destroyer we all know and love.  This fight would be the battle of body punches, and I hope in 2015 the boxing world can be treated to a real test for the up and coming GGG.  Cotto may possibly fight Canelo Alvarez on Pay-Per-View in the spring, but I give Cotto a huge chance in a fight with Alvarez if it happens which would propel him to another great Pay-Per-View showdown with Gennady Golovkin.
Check out Dr, Phil's new book The 20/20 Diet: Turn Your Weight Loss Vision Into Reality.  Own your copy today!
For more boxing news and articles continue to visit www.potshotboxing.com. If you like this post and other's from Potshot Boxing, feel free to spread the word to your favorite social media channels with your friends and family!! Potshot Boxing – "Boxing news and article bites for all walks of life."