Seth "Mayhem" Mitchell, (26-1-1, 19 KO's) vs. Cristobal "Nightmare" Arreola. (35-3-0, 30 KO's.)What a nice fight the boxing world will get a chance to witness as both of these fighters have a lot to gain and a lot to loss as the winner will get back into the heavyweight title hunt, while the loser will have to wait a while before a heavyweight championship comes a knockin'.
One shot can definitely win the night for either fighter as both of these fighters have devastating knock out power.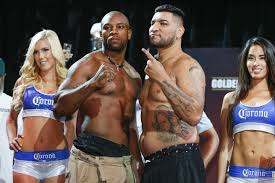 Photo Credit: sitekreator.com
I expect for Mitchell to throw a lot of jabs and counterpunches in this fight to keep the over aggressive Arreola at bay.  If this fight goes into deep waters; and when I say deep waters I mean the 4th or 5th round in heavyweight language, I expect for both of these fighters to start to wear down; Mitchell more so than Arreola.
This fight is simply going to rely on whether or not Mitchell can box his way to victory; or if Arreola can impose his will on Mitchell.  This is one of those fights that I would consider a tossup so since this is the case in this fight, I will choose the imposing will.
Arreola by 6th Round Knockout
For more boxing news and articles continue to visit www.potshotboxing.com. If you like this post and other's from Potshot Boxing, feel free to spread the word to your favorite social media channels with your friends and family!! Potshot Boxing – "Boxing news and article bites for all walks of life."