Well finally Floyd "Money" Mayweather, Jr., (44-0-0, 26 KO's) have a serious assignment in front of him on September 14 in Vegas as he finds himself in a junior middleweight unification matchup with the future "Golden Boy" of boxing Saul "Canelo" Alvarez, (42-0-1 30 KO's.)
Winner takes home the WBA, WBC and Ring junior middleweight titles, while the loser will suffer the first loss of his career.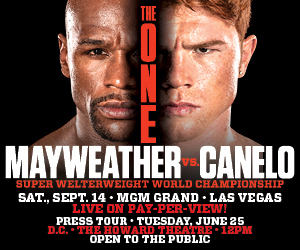 Credit: Washington.cbslocal.com
This is going to be a great fight!!  I would have given the future "Golden Boy" a chance to win this fight, but this fight is at a catchweight of 152 pounds which I feel will favor Mayweather and spell trouble for the young lion Alvarez.
Again boxing fans, we all must remember, in order to beat Mayweather it is going to have to take someone bigger, stronger, and willing to jab, jab, and jab some more to try and throw off the excellent timing of Mayweather.
I feel Canelo will jab a lot in this fight and pure on as much pressure as he can to Mayweather, but I feel that Alavarez's stature will not be big enough to chop Mayweather down as Mayweather will get his potshots in during this fight.
I watched Canelo's last fight when he faced Austin Trout; and even though Canelo knocked Austin Trout down late in the fight, I still felt that Trout did enough early on in the fight to won the fight close, but you cannot argue Canelo getting the decision in that fight.
Mayweather will simply not give Canelo the chance of a close fight as I expect for this fight to turn out like the Sergio Martinez/Julio Cesar Chavez, Jr. fight early on this year.   Canelo, like Chavez Jr. will play the role of the up and coming star who will simply be outclassed by a not quite bigger, but smarter fighter in Mayweather, like Martinez.
This will be yet another Mayweather win, and for once, this will finally be a fight that can give Mayweather the true boxing credit that he deserves as the pound for pound king in the sport.
Mayweather by 12 round unanimous decision
For more boxing news and articles continue to visit www.potshotboxing.com. If you like this post and other's from Potshot Boxing, feel free to spread the word to your favorite social media channels with your friends and family!! Potshot Boxing – "Boxing news and article bites for all walks of life."