Undefeated Danny "Swift" Garcia, (26-0-0, 16 KO's) will face his toughest test to date when he enters the Grand Garden Arena in Vegas against the dangerous Lucas Matthysse, (34-2-0-1 no contest, 32 KO's.)
This fight has the potential to steal the thunder from the Mayweather/Alvarez main event on September 14 as these two fighters will fight right before Mayweather and Alvarez.
Matthysse is a very dangerous fighter and his boxing record shows it as he has knocked out all but 2 of his opponents in his professional boxing wins.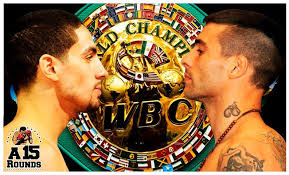 Photo Credit: www.boxingsocialist.com
Garcia is turning out to be a good…good fighter so far, as he can fight on the inside and outside which is going to make for a great fight with Matthysse who can bring the pressure as well.
Garcia loves to mix it up, but I expect for Garcia to protect his pawn a little bit in this fight as Matthysse has a lot of fire power and he can finish Garcia if Garcia decides to mix it up too much with this dangerous fighter in Matthysse.
I expect for the always gamed Matthysse to go right after Garcia round after round in an attempt to wear down the champion.  The thing I like about Garcia, though, is he can fight!!  Garcia will not be afraid to stand and trade with Matthysse if he has to, but again, I hope Garcia does not go mono mono with Matthysse too much.
In the end, can Matthysse rough up Garcia enough to take Garcia's, WBA, WBC, and Ring light welterweight titles?  After all, Matthysse is technically an undefeated fighter in my eyes given that his two losses can definitely be cross examined.
The answer is no.  As much as I would like to see Matthysse win this fight, I just feel that Garcia will pace himself enough in this fight, protect his pawn, and pick and choose the right times to mix it up with Matthysse.
There will a lot of fireworks in this fight, but Garcia will dictate the time and places in the ring when the fireworks will happen.
Garcia by 12 round unanimous decision
For more boxing news and articles continue to visit www.potshotboxing.com. If you like this post and other's from Potshot Boxing, feel free to spread the word to your favorite social media channels with your friends and family!! Potshot Boxing – "Boxing news and article bites for all walks of life."