Floyd "Money" Mayweather vs. Saul "Canelo" Alvarez
Anytime there is a fight involving Floyd Mayweather it will always be the fight of month for Potshot Boxing because right now, Floyd Mayweather is the king of this sport so any fighter that challenges Mayweather for the pound for pound thrown will be intriguing to the boxing world.
Get the Official Floyd Mayweather TMT Vintage T-shirts here at PSB!
Las Vegas, Nevada was just electric; the strip, the clubs, everything…there was not a single place with tickets available to watch the live fight at the MGM Grand Garden Arena or hotels and pubs in Vegas that was showing the Mayweather/Canelo fight on closed circuit television.
This was definitely the biggest fight in boxing history from a financial standpoint, and from an anticipation standpoint as I have never seen so many supporters for one fighter in Canelo since maybe Oscar De La Hoya. There were millions of people in Vegas for the mega showdown.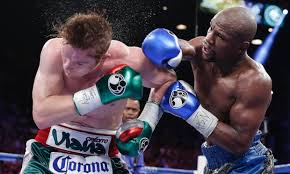 Photo Credit: theguardian.com
Saul "Canelo" Alvarez is definitely going to be the next Golden Boy as everywhere you looked on the weekend of September 14, 2013; you saw those Canelo headbands around the heads of so many dedicated Canelo supporters.
Going into the fight a lot of boxing critics gave Canelo a huge shot to beat Floyd Mayweather so I am sure a lot of people were in town to hopefully become a part of history if Canelo could somehow figure out the ultimate boxing puzzle that is Floyd "Money" Mayweather.
The fight itself turned out to be a good fight.
Get your own Microsoft Surface with a pre-paid Visa! Click Here!
During the first 3 to 4 rounds of the fight, Floyd Mayweather shocked a lot of boxing fans as he came out and instantly became the aggressor from the start of the bell as he backed up the bigger and stronger Canelo.
Canelo did a good job stalking Mayweather in his own right in this fight, but he fell into a lot of Mayweather's traps as he got caught with a lot of counterpunches and power shots as he tried to stalk Mayweather.
After round 4, Canelo spent the rest of the night trying to get to Mayweather's body and he just expended a lot of energy trying to catch Mayweather as Mayweather was simply too elusive for the young and hungry Canelo.
Mayweather was simply fantastic in this fight as he did a great job in stepping up the pressure on Canelo when he needed to and put a lot of punishment on Canelo in the 7th round in this fight as for the first time in the fight, Canelo started to show fatigue from all of that chasing and trying to track down Mayweather.
From the 7th round on, Mayweather used his superior boxing skills to simply outbox, outwit, and outclass the young upstart Canelo as Canelo gave it his best shot at trying to catch Mayweather.
Get the Official Floyd Mayweather TMT Vintage T-shirts here at PSB!
Mayweather closed the show as he boxed and moved away from a lot of Canelo's punches, although I did give the last round to Canelo. Mayweather was awarded a controversial majority decision victory to capture the WBC and WBA (Super) junior middleweight titles. Yes, one judge actually scored the fight as a draw which is just preposterous!!
At best, I did give Canelo three rounds in the fight but that is it. As far as the other nine rounds, Mayweather showcased his superior skills and put on one of the best boxing performances of his career.
Conclusion
Canelo and his camp simply did not implement the right game plan for Mayweather as Canelo did more boxing than stalking in the fight. I mean, he did his share of stalking Mayweather and trying to pressure Mayweather, but he made a huge mistake in this fight trying to box with Mayweather.
No one can box with Mayweather; the only thing chance a fighter will have to beat Mayweather is to put pressure on him, and again, the game plan that needs to be implemented to beat Mayweather is a game plan that Mayweather is the best at handling and that is pressure.
Another thing I noticed in this fight was Mayweather simply did not get worked enough by Canelo. Yes, Canelo boxed and tried to pressure Mayweather, but if you noticed in the fight, Mayweather did a lot of circling in the fight, thus, he was not expending a lot of energy like Canelo was.
In the end, Mayweather was simply magnificent on September 14 and for his troubles, he earned over 80 million dollars total for this fight which is super record breaking. I cannot wait to see who his next opponent is going to be, because right now I cannot see anyone beating this great boxing prodigy that is Floyd "Money" Mayweather.
Get your own Microsoft Surface with a pre-paid Visa! Click Here!
For more boxing news and articles continue to visit www.potshotboxing.com. If you like this post and other's from Potshot Boxing, feel free to spread the word to your favorite social media channels with your friends and family!! Potshot Boxing – "Boxing news and article bites for all walks of life."