Lucas "The Machine" Matthysse vs. John "The Gladiator" Molina – April 26, 2014
Just when I thought that "The PacMan" Manny Pacquiao and Timothy "Desert Storm" Bradley would be a shoe-in for Potshot Boxing's Fight of the Month for April 2014, Lucas Matthysse and John Molina swooped in and reminded us all that the sport of boxing will never die as they gave the boxing world an epic battle.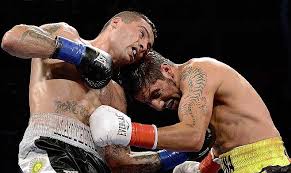 Photo Credit: boxing.com
What a great, great fight between Lucas "The Machine" Matthysse and John "The Gladiator" Molina; and for the record, Molina truly lived up to his nickname "The Gladiator."
Matthysse and Molina simply fought until one of them could not give anymore.  This was a classic give and take fight as both of these fighters came out swinging for the fences and simply landed brutal shots on each other.
Molina knocked down Matthysse in the 2nd round of this fight and had Matthysse in serious trouble.  Matthysse got up off of the canvas and continued to throw power punches with Molina as both of these guys were in a state of "it's him or me" mode!!
Round after round, Matthysse and Molina battled as these two fighters were throwing hard, brutal shots; the kind of power shots that is not good for the faint of heart!!  Matthysse would go down once more in the 5th, but rallied back to put on one of the most grueling and brutal fights the boxing world have seen in a long time.
The accumulation of punishment started to take it's toll on both fighters, but the great body punching from Matthysse started to wear down Molina late in the fight as Matthysse started to put some serious pressure on Molina as he caught Molina with some crushing power shots and scored a knockdown of his own on Molina in the 8th.  There were some points late in the fight where I was saying to myself, "how in the world is Molina still standing."
Matthysse continued his offensive onslaught despite Molina's gladiator spirit as Matthysse just busted up Molina from round 8 on. Matthysse closed the show in brutal fashion with another knockdown of Molina in the 10th as Matthysse literally beat Molina to the ground.   At the end of round 10, it seemed as though they were going to stop the fight given that Molina had a huge gash on his head, but his corner said "NO" so that fight went on.
In the 11th round Matthysse sealed Molina's faith with a crushing left hook that floored Molina one last time as Molina's body finally said enough.
Matthysse was awarded the 11th round TKO victory in this all-action, 2014 Fight of the Year Candidate blood and guts fight.
Conclusion
What a fight!!  I knew that both of these fighters were all-action fighters, but I did not expect that kind of Corrales/Castillo type of war!!
It has been a long time since I seen a fighter take such a brutal beating like Molina took in the last 4 rounds of that fight from Matthysse, so my hat is off to both fighters; first for Matthysse battling back from 2 knockdowns and giving the boxing fans a great fight; and for Molina's gritty spirit for hanging in there and taking a beating from Matthysse as he was giving it to Matthysse just as good as he was taking it.
When these two fighters shake the cobwebs out from this brutal fight, I am sure the boxing world will demand a rematch and will be clamoring for it!!
For more boxing news and articles continue to visit www.potshotboxing.com. If you like this post and other's from Potshot Boxing, feel free to subscribe to this boxing website by entering your email address into the floating email form provided on this post! Potshot Boxing – "Boxing news and article bites for all walks of life."