Check out PSB's latest Potshot Boxing Fact about the sport of boxing!!
International Boxing Hall of Famer Oscar De La Hoya was once one of the most feared men in the sport of boxing. Known as "The Golden Boy," De La Hoya ripped through a lot of great fighters in his career. During his professional boxing career, he was the biggest Pay-Per-View attraction since Mike Tyson.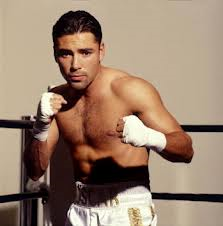 Photo Credit: www.makinittv.com
Another thing "The Golden Boy" Oscar De La Hoya had going for him was the women. Most of his fights were filled with women who came to the fights just to see him, over 40 percent to be exact.
Breakthrough 6-Pack Abs training method
The ladies loved Oscar, and I am sure they still love him today. He was also dubbed the number 1 pound for pound fighter in the world at one period in his career after he took that pound for pound title from Pernell "Sweet Pea" Whitaker.
Did you know, however, that Oscar De La Hoya lost his first professional fight in 1999 when he faced another then undefeated fighter Felix "Tito" Trinidad. This fight was one of the biggest Pay-Per-View extravaganzas in boxing history.
Breakthrough 6-Pack Abs training method
For more boxing news and articles continue to visit www.potshotboxing.com. If you like this post and other's from Potshot Boxing, feel free to spread the word to your favorite social media channels with your friends and family!! Potshot Boxing – "Boxing news and article bites for all walks of life."