Here is Potshot Boxing's (PSB) Prediction for the upcoming fight between Peter Quillin and Gabriel Rosado!!
"Kid Chocolate" Peter Quillin, (29-0-0, 21 KO's) will attempt to further convince the boxing world that he is the next great thing in boxing as he looks to put on an explosive performance when he goes head to head with the rough and rugged Gabriel "Good Boy" Rosado, (21-6-1, 13 KO's.)
This fight will take place right before the Bernard Hopkins/Karo Murat fight and this fight will probably be more exciting than the Hopkins/Murat fight; depending on which Karo Murat shows up for the main event tonight.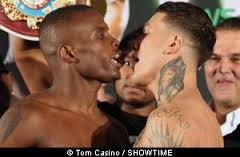 Photo Credit: philboxing.com
The Quillin/Rosado fight should be a great fight as I expect both of these fighters to come out swinging right from the start.  I expect for Quillin to try and take out Rosado early, while I expect for Rosado to look to catch Quillin with something big throughout the fight as Quillin attempts to go for the explosive knockout early.
This is a dangerous fight for Quillin because Rosado is not going to back up from Quillin tonight, instead, I think Rosado will pick his spots as to when to brawl with Quillin and just try to outbox Quillin en route to taking the WBO middleweight crown away from Quillin.
This fight will basically boil down to conditioning.  Can Rosado gain Quillin's respect tonight with enough clean hard shots, use his legs and move effectively,  and win the boxing battle by decision; or will Quillin force Rosado into a slugfest and win the fight impressively by knocking Rosado out.
Rosado is no slouch so if Quillin beats Rosado tonight, this is the kind a fight that no only will give him the respect he needs from the boxing critics, but also this can put him in line for a big fight with one of the top middleweights in the division and I feel that Quillin will be ready tonight.
Prediction: Quillin by 9th round knockout
For more boxing news and articles continue to visit www.potshotboxing.com. If you like this post and other's from Potshot Boxing, feel free to spread the word to your favorite social media channels with your friends and family!! Potshot Boxing – "Boxing news and article bites for all walks of life."