Here is Potshot Boxing's (PSB) Prediction for the upcoming Battle for Brooklyn showdown between Zab Judah and Paulie Malignaggi!!
The battle for Brooklyn!!  The battle of boxing styles!! The battle for boxing survival!!  This will be a great fight as I expect for both Paulie "Magic Man" Malignaggi, (32-5-0, 7 KO's) and Zab "Super" Judah, (42-8-0-2, 29 KO's) to come out and give it their all for their beloved Brooklyn from the opening bell; Malignaggi by stepping up the work rate, and Zab by looking for a ways to land that explosive straight left hand.
This fight will boil down to which fighter can stay focused down the stretch as I expect for Malignaggi and Judah to box and apply pressure to each other.  Early on in this fight, I expect for Zab to use his quick jab and elusiveness in hopes of setting up some big power shots on Malignaggi, and then look to counterpunch Malignaggi as the fight carries on.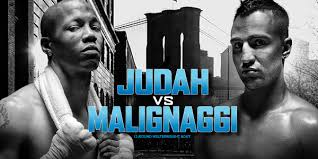 Photo Credit: roundbyroundboxing.com
I expect for Malignaggi to box at a steady pace for the entire night by trying to outwork Judah round after round by throwing multiple combinations and occasional power shots.
Both of these fighters are great counterpunchers, so I expect for both of these fighters to pay dearly when a mistake is made in the fight.
This is a truly a tossup fight!!  Malignaggi lost his last fight to Adrien Broner; Judah lost his last fight to Danny Garcia.  The winner of this fight will move on and continue to build on their boxing career; while the loser will once again go back to the drawing board and figure out how to find that mojo to get a win again.
So who wins?  Well, Malignaggi is not going to knock out Judah, and I do not think that Judah, though very capable, will not knock out Malignaggi in this fight so I predict one of these fighters will win by decision.
When focused, Zab can be one of the best fighters in the world if he can just stay focused in the task at hand and not run out of gas!!  I believe Zab will finally stay focus and finish the fight strong in front of his Brooklyn disciples, thus, winning the Battle of Brooklyn.
Prediction: Judah by unanimous decision
For more boxing news and articles continue to visit www.potshotboxing.com. If you like this post and other's from Potshot Boxing, feel free to spread the word to your favorite social media channels with your friends and family!! Potshot Boxing – "Boxing news and article bites for all walks of life."