Going into this fight, I did not know that the great Roy Jones, Jr. was in the camp of Jean Pascal, otherwise, I would have immediately given the edge to Pascal going in tonight fight simply because I am sure Jones have effectively taught Pascal how to control his stamina and use his faints and elusive skills to his advantage to give Lucian Bute some serious problems in the fight.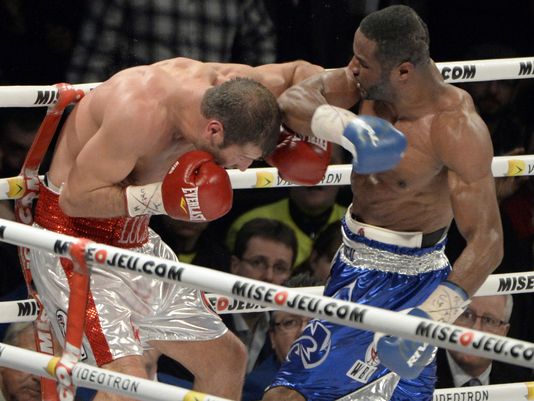 Photo Credit: Eric Bolte, USA Today Sports
Well, Pascal looked RJ'ish tonight as his paced himself well in this fight, used his faints well, and simple beat Bute's body up tonight.  Bute just did not look like he wanted to fight tonight as he continued to not pull the trigger when he had his chances in the fight; instead he was shaking and looking a bit timid and weary of what might get thrown back at him by Pascal if he were to let his hands go.
Pascal simply controlled the fight the whole night long; and barring a big 12th round late rally assault from Bute, Pascal won this fight easy as he was awarded the 12 round unanimous decision victory.
Conclusion
After the fight, Bute stressed that he would like a rematch with Pascal given the success he had in the 12th round against Pascal as Bute felt that was the Lucian Bute the boxing world should have saw in the ring the entire night.  Bute stated that he just could not get off tonight.
I hear Bute, but if the Bute that showed up in tonight's fight is the guy that we will see in a possible rematch with Pascal, then I am sure the boxing world does not want to see that.
The great Bernard Hopkins said on Twitter tonight that maybe the winner of this fight can battle Adonis "Superman" Stevenson next.  Now I would personally like to see Stevenson fight Sergey Kovalev in his next fight, but from a financial standpoint, Jean Pascal might be the best Huckleberry for Stevenson in the near future.
For more boxing news and articles continue to visit www.potshotboxing.com. If you like this post and other's from Potshot Boxing, feel free to spread the word to your favorite social media channels with your friends and family!! Potshot Boxing – "Boxing news and article bites for all walks of life."