Manny 'PacMan' Pacquiao and Timothy 'Desert Storm' Bradley gave the boxing world the best fight out of their 3 fights on April 9, 2016!  This fight was a chess match, turned brawl, then into domination by one of the best fighters of this era in Manny Pacquiao.
Timothy Bradley started out with a great boxing game plan as he boxed and kept good distance on Manny Pacquiao by keeping his left foot on the outside of Pacquiao's right foot to avoid Pacquiao's power.  Now, the game plan for Bradley did bother Pacquiao early on in this fight, but Pacquiao and Trainer Freddie Roach figured out the best way to stop Bradley's good game plan; hit Bradley with a good shot.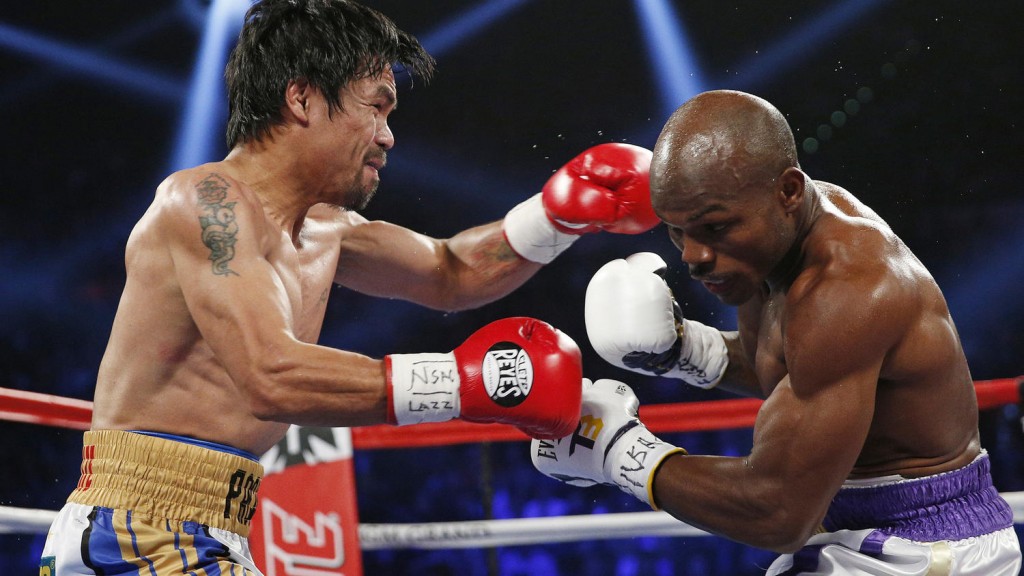 Bradley has all of the skills to beat Manny Pacquiao, but the question heading into the fight was can Bradley be patient enough to stick to his boxing game plan if he got hit with a great shot by Pacquiao?  Well, a big fat NO would be the answer as Bradley went from his great boxing game plan and reverted back to trying to pay back Pacquiao with a good shot of his own which almost always gets him in trouble.
Bradley started to fight Pacquiao straightforward instead of at an angle which spelled disaster for Bradley. The good thing about Timothy Bradley that boxing fans can appreciate about him is that he simply loves to brawl when he has the skills to box.
Pacquiao used his good side to side movement to get inside and land some good combinations and hooks on Bradley.  Bradley tried to take a page out of the great Juan Manuel Marquez's book by trying to counterpunch Pacquiao with the right hand as Pacquiao was coming on the inside, but did not have much success.
So here is the fight in a nutshell.  Bradley's good boxing landed him about 4 rounds in this fight in my humble opinion and Pacquiao won 8 rounds, while scoring 2 knockdowns on Bradley in the fight.  Pacquiao scored knockdowns on Bradley in rounds 7 and 9.  The double left hook knockdown by Pacquiao in round 9 sent Bradley rolling across the ring.  This fight went to the judges' scorecards and all 3 judges scored the bout 116 to 110 all for the winner of the Pac/Bradley rubber match…Manny 'PacMan' Pacquiao.
Conclusion
This was a great fight!!  Manny Pacquiao showed the boxing world that he still has the speed and reflexes to beat elite fighters in the sport.  Timothy Bradley is an elite fighter, and Pacquiao blew him away with speed and aggression.  Bradley should not hang his head low because he fought a great fight, but loss focus a little as the fight went into deep waters.  Bradley will always be a threat at Welterweight so fighters at 147, you better watch out for Timothy 'Desert Storm' Bradley.
As for the great Manny Pacquiao, he is in a great position right now as he can either retire, fight, or take over the senate in his homeland of the Philippines. Pacquiao can just do anything he wants to right now.  If Pacquiao decides to fight, all fighters from 147 to 160 would be a mega fight for Pacquiao so big paydays for him, Check!
If Pacquiao decides to hang up the gloves for good, however, he will be considered one of the best fighters ever in my humble opinion.  I really hope that Pacquiao decides to fight again because he still has all of the tools to take the boxing world by storm.

Loading ...
For more boxing news and articles continue to visit www.potshotboxing.com. If you like this post and other's from Potshot Boxing, feel free to subscribe to this boxing website by entering your email address into the floating email form provided on this post! Potshot Boxing – "Boxing news and article bites for all walks of life."