Manny "PacMan" Pacquiao, (57-6-2, 38 KOs) and Timothy "Desert Storm" Bradley, (31-1-1, 1 no contest, 13 KOs) will once again enter the ring at the MGM Grand in Las Vegas, Nevada on April 9, 2016 for a 3rd time to settle once and for all who is the better fighter.  Now, in my humble opinion I felt that Manny Pacquiao won their 1st fight so is this really a rubber match?
Well on paper this is a rubber match given that the judges gave Bradley the decision in the 1st fight in which almost the entire boxing world felt that Manny Pacquiao should have gotten the nod in that fight.  Pacquiao would, however, win the 2nd meeting between these 2 fighters which brings us to April 9, 2016.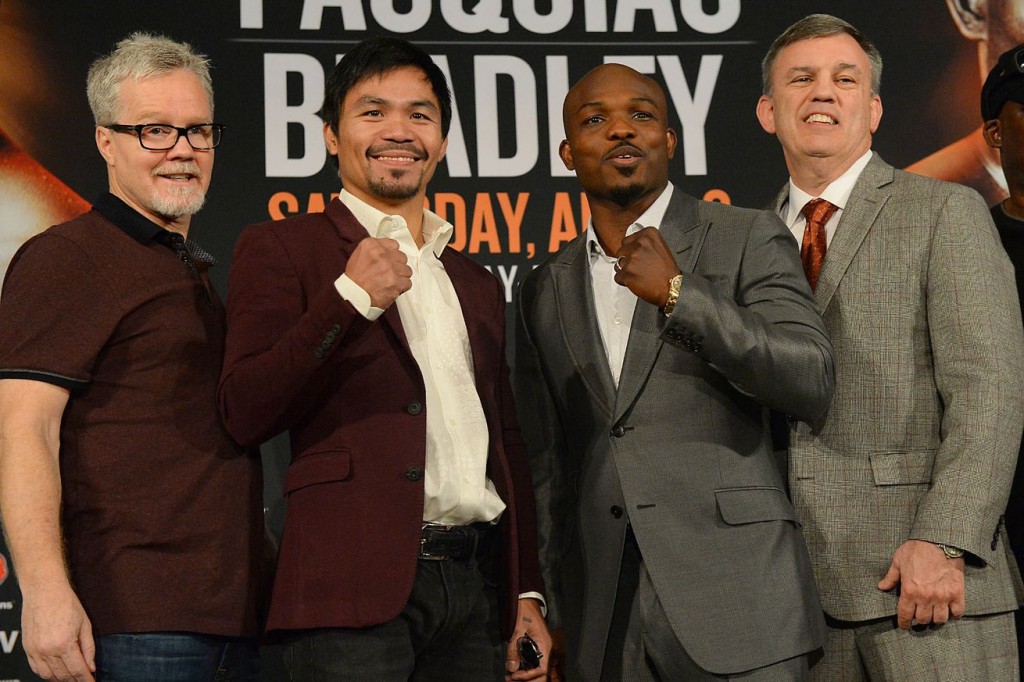 So who wins?
I do not expect for Freddie Roach to change too much of the fight game plan for Pacquiao as I expect for Pacquiao to move forward and apply effective pressure on Bradley.  Freddie Roach told Max Kellerman, Bernard Hopkins, and Roy Jones, Jr. on the HBO show "Under The Lights: Pacquiao-Bradley" that they will try to go for the knock out against Bradley.
The question will be whether or not Pacquiao listens to Roach or not.  I expect for Bradley to use his jab, be smart, and try and counterpunch.  The only knock I have on Bradley is that he is not patient enough to box Manny Pacquiao.  If Pacquiao catches Bradley with a good shot, Bradley loses focus and tries to land a shot right back on his opponent which usually gets him in a lot of trouble.
Can Bradley's new trainer Teddy Atlas catch Bradley in time enough to work out the kinks in Bradley so that Bradley does not revert back to his old ways when he gets caught with a good shot?  If Bradley can patiently take the boxing role in this fight, in other words, be the matador in this fight, then I give him a huge chance to finally beat Manny Pacquiao off paper.  However, if Bradley still feels the need to abandon his game plan once he gets hit with a good shot, then I expect the same thing to happen to him the first 2 times he faced Manny Pacquiao.
So who will win this fight?  Well, I expect for Bradley to bring his "A" game against Pacquiao, but I just do not believe that Bradley will be content with sticking to a boxing game plan when he gets hit with a good shot.
Prediction: Manny 'PacMan' Pacquiao by Unanimous Decision

Loading ...
For more boxing news and articles continue to visit www.potshotboxing.com. If you like this post and other's from Potshot Boxing, feel free to subscribe to this boxing website by entering your email address into the floating email form provided on this post! Potshot Boxing – "Boxing news and article bites for all walks of life."