The month of June was definitely the best month of the year so far as boxing action goes. From Francisco 'El Bandido' Vargas vs. Orlando 'Siri' Salido to the blood and guts war between John Molina, Jr. and 'The Siberian Rocky' Ruslan Provodnikov; the boxing world was treated to all-action boxing in June of 2016.
There were so many fights in the month of June that could have been chosen as Potshot Boxing's (PSB) Fight of the Month for June 2016, but Keith Thurman vs. Shawn Porter gave the boxing world everything and more. For that reason, 'One Time' vs. 'Showtime' was chosen as Potshot Boxing's (PSB) Fight of the Month for 2016.
Check out these great t-shirts provided by Potshot Boxing's (PSB) Championship Tees By PSB!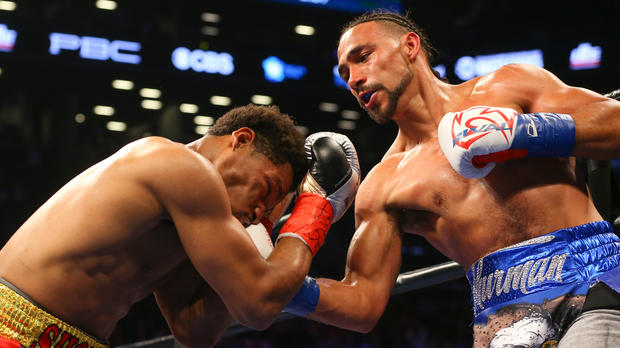 Keith 'One Time' Thurman and Shawn 'Showtime' Porter put on an ultra-aggressive performance in front of a pumped Barclays Center crowd. Both fighters fought like their lives depended on it.
In round 1, Porter came out like a junkyard dog as he pounced on Thurman right from the start. Thurman took advantage of Porter's aggression by landing counter uppercuts, but it did not slow Porter down. As round 1 continued, the 2 fighters would throw vicious power shots in hopes in landing the power shot to end the night early.
Round 2 would be more of the same of Porter's mauling Thurman as he backed Thurman up and threw relentlessly to Thurman's body. Porter did a great job in round 2 of swarming Thurman not while not allowing Thurman to get off. Porter dominated Thurman in round 2 with sheer effective aggression.
Porter continued to bombard Thurman with smothering shots to the body in round 3. Thurman tried to use his jab to keep Porter off of him, but Porter was like a tornado in the ring. As round 3 came to an end, Thurman was able to take advantage of Porter aggression by landing some vicious hooks to Porter's head.
The 2 fighters would trade head-turning shots on each other as the Barclays Center crowd oohed and aahed in satisfaction of the 2 warriors heart in the ring. Early on in the fight it looked as though Porter's aggression would overwhelm Thurman, but Thurman did a great job of being the matador in the fight.
Check out this cool "Best Fight I Ever Saw" T-Shirt! Own yours today!
In round 4, Thurman timed Porter with some good counter shots as Porter was coming in on the inside. Thurman's counterpunching would pay off some more in the 4th as he caught Porter with a huge counter left hook that left Porter holding onto Thurman's torso.
Thurman would close the 4th round by landing some beautiful left uppercuts on Porter as Porter was backing up to cement the 4th round. Thurman won the 4th round big with good effective counterpunching.
In round 5, Porter tried desperately to cut the ring off on Thurman in hopes of landing more vicious body shots. Porter would land a hard right hand on Thurman that got Thurman's attention. Porter would continue his assault on Thurman as he backed Thurman up against the ropes and banged him with hard shots to the head and body.
As round 5 continued, Thurman would once again take advantage of Porter's aggression by landing some hard counter shots of his own. Porter continued to chase Thurman down in the 6th round as he literally ran after Thurman to cut off the ring on him to land more power shots.
Down the stretch in round 6, Porter continued his aggression on Thurman as he whacked him with hard shots to the body. In round 7, the 2 fighters stood and traded fight-ending shots on each other. Porter was able to impose his will on Thurman in the 7th as he connected with a barrage of power shots to Thurman's body; while punctuating the round with a hard counter right hand on Thurman's head.
In round 8, Porter hurt Thurman with a hard body shot that sent Thurman staggering back against the ropes. Thurman was able to hold his own, however, because Porter continued to lead with his head when he attacked, which left the door open for Thurman to land eye-catching counterpunches on him.
The 2 fighters would start off round 9 in phone-booth mode as they would swarm each other and land hard unforgiving shots on each other. As round 9 continued, the 2 fighters would land unbelievable leather in round 9 in one of the best rounds of 2016 as the Barclays center continued to ooh and aah.
Throwdown Fantasy!  Fantasy Boxing for real cash!  Sign up here.
As the championship rounds started, Porter would continue to whack Thurman's body; and Thurman continued to land great counterpunches. In round 10, Porter back Thurman up against the ropes and beat his body up again. Just when you thought this fight couldn't get any better, Porter would walk into another big counter left hook the momentarily wobbled him.
Porter would stand his ground and the 2 fighters would land masterful bombs on each other as round 10 came to end. Another "round of the year candidate" kind of round. What a great fight!
In round 11, it was Thurman who played the stalker role as he backed up Porter and caught him with a jolting counter right hook. Porter responded to the great shot by trying to walk through Thurman with aggression, only to get countered again with a big left hand.
Porter only knows one way and that is straightforward! I mean full speed ahead! He simply just kept going after Keith Thurman with everything he had. Porter is like a machine because Thurman hit Porter with a lot of fight-ending shots in the 11th, and Porter shook off the power shots and moved forward.
Porter tried to mount a comeback in round 11 by trying to cut off the ring, but Thurman was too crafty for him as Thurman skated back and did not allow Porter to get off anymore body flurries in the 11th. In the final round, these 2 fighters would trade combination after combination on each other to the appreciation of the Barclays Center boxing crowd!
This fight went to the judges' scorecards and all 3 judges scored the fight 115-113 for the winner in this nail-bitter…Keith 'One Time' Thurman. With the win, Thurman retains his WBA welterweight title.
Conclusion
In a fight that was too close to call, Keith Thurman and Shawn Porter gave the boxing world an all-out fight of the year candidate kind of fight! This fight was everything the boxing world expected it to be as Porter brought the aggression and Thurman brought the boxing.
This fight could have easily been declared a draw. Porter did enough to get the decision, but Thurman got the decision. Now, Thurman did enough as well to get the decision, but you can argue that Porter's vicious attack on Thurman's body could have won the night for Porter.
The key to victory for Thurman, however, was how he caught Porter with eye-catching counterpunching throughout the fight as Porter was coming on the inside.
Porter gave Thurman the business in a lot of the early rounds, but he jumped in head first a little too much which allowed him to get whacked with eye-popping counter hooks. This was a great fight which deserved Potshot Boxing's (PSB) Fight of the Month for June 2016! It is definitely a 2016 Fight of the Year candidate, and I hope they do it again in the fall.
Get this cool 'One Time' vs. 'Showtime' t-shirt to commemorate this great all-action fight! Click here!
For more boxing news and articles continue to visit www.potshotboxing.com. If you like this post and others from Potshot Boxing, feel free to subscribe to this boxing website by entering your email address into the floating email form provided on this post! Potshot Boxing – "Boxing news and article bites for all walks of life."