Check out Potshot Boxing's (PSB) Prediction for the upcoming Mikey Garcia vs. Juan Carlos Burgos fight!!
This should be a good fight between two very good super featherweights as Mikey Garcia, (33-0-0, 28 KOs,) will look to put on a great performance for the Madison Square Garden crowd when he defends his WBO super featherweight crown against a very gamed Juan Carlos Burgos, (30-1-2, 20 KOs.)
Burgos fought to a draw in his last two fights, while Garcia got up off of the canvas in the 2nd round of his last fight to knock out Roman Martinez.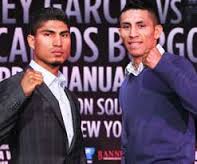 Photo Credit: cdb.tv
Both of these guys thrive on dishing out a great deal of punishment to their opponents before putting their opponents out of their misery by knocking them out.
I expect for Garcia to come out and use that good jab of his to keep Burgos at bay while trying to set up some power shots to the body of Burgos to get his attention.
I expect for Burgos to come out a little tentative in the first couple of rounds, but then try to turn up the heat on the undefeated Garcia with some jabs and power punches of his own.
This should be a good, good fight, and remember; Burgos' last two fights ended in controversial draws in which most boxing fans and experts felt that Burgos should have gotten the nod in both of those fights so in my eyes; he is a true 1-loss fighter.
Garcia will definitely not be fighting a slouch come this Saturday night so he better be ready for Burgos; with that said, there is going to be a lot of punishment dished out in the fight.
This fight is going to boil down to which fighter will wear down first. Garcia is very good at waiting for the right moment to strike and throw something big over that good jab of his and I expect his boxing to rule the night tomorrow.
Garcia has a huge opportunity to dominant a really good super featherweight in Burgos en route to super-stardom and I believe that Garcia will seize the moment.
Prediction: Garcia by unanimous decision
For more boxing news and articles continue to visit www.potshotboxing.com. If you like this post and other's from Potshot Boxing, feel free to spread the word to your favorite social media channels with your friends and family!! Potshot Boxing – "Boxing news and article bites for all walks of life."