Here is Potshot Boxing's (PSB) Prediction for the upcoming Mike Alvarado vs. Ruslan Provodnikov fight!! 
Download the WWE Network App for FREE!!
The Mile High state of Colorado will showcase a potential fight of the year when Mike "Mile High" Alvarado, (34-1-0, 23 KO's) defends his WBO interim light welterweight crown against the dangerous Ruslan Provodnikov, (22-2-0, 15 KO's.)
Mike Alvarado avenged his only loss when he beat Brandon Rios in his last fight, while Ruslan Provodnikov gave Timothy Bradley all he could handle in his last fight which will be considered for 2013 fight of the year.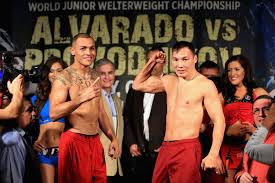 Photo Credit: zimbio.com
I expect for Mike Alvarado to be smarter than Timothy Bradley was against Provodnikov in this fight as I expect for Alvarado to box Provodnikov and catch him when he tries to get inside to inflict damage on Alvarado; although, I do feel that Provodnikov will apply enough pressure to make this a good fight.
If Alvarado gets caught up with brawling with Provodnikov, then he can possibly kiss his championship goodbye because Provodnikov is not a fighter to play with and he can knock you out if the opportunity presents itself.
In the end, I feel that Alvarado will be able to control the ring with his footwork while keeping the aggressive and dangerous Provodnikov at bay just enough to get a decision, just like he did against another aggressive fighter in Brandon Rios in his last fight.
Prediction:  Alvarado by 12 round unanimous decision
Download the WWE Network App for FREE!!
For more boxing news and articles continue to visit www.potshotboxing.com. If you like this post and other's from Potshot Boxing, feel free to spread the word to your favorite social media channels with your friends and family!! Potshot Boxing – "Boxing news and article bites for all walks of life."