The month of June 2015 gave the boxing world a lot of great action; from Deontay "The Bronze Bomber" Wilder continuing to roll as WBC heavyweight champ to the controversy of the Timothy "Desert Storm" Bradley vs. Jessie Vargas fight. There were a lot of fights that could have been considered for Potshot Boxing's (PSB) Fight of the Month for June 2015, but Miguel Cotto's great one-sided destruction of Daniel Geale in front of his home away from home crowd at the Barclays Center in Brooklyn, New York got my attention and was chosen as Potshot Boxing's (PSB) Fight of the Month for June 2015.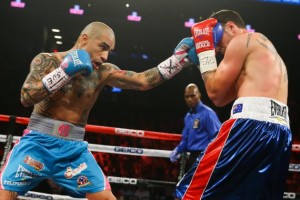 Like Doritos? Get a Doritos Sample here!
Since experiencing his worst year ever as a professional fighter in 2012; with losses to Floyd "Money" Mayweather, Jr. and Austin "No Doubt" Trout, Cotto has surrendered himself to the expert tutelage of the great Freddie Roach.  With Roach in his corner, Miguel Cotto has gotten back to his body puncher destroying ways as he has now conquered his last 3 opponents.  His last victim was Daniel "Real Deal" Geale.
I know that Cotto defended his WBC and RING middleweight titles against Geale at a catch-weight, but Cotto beat up a guy that was nearly 20 pounds heavier than he was on June 6, 2015.  Cotto controlled this fight from start to finish as he started off the 1st round by using his right jab to set up hard left hooks and combinations to Geale's body.  Geale started off the fight by trying to cut off the ring and use his tremendous size advantage to land something big on Cotto.
As the 1st round went on, Cotto continued to mesmerize Geale with great boxing as he used his right jab to set up more vicious left hooks that landed on Geale's dome.
Cotto picked up the pace in the 2nd round by moving forward behind his right jab to set up the vicious left hooks as he cracked Geale with another left hook that stunned him.  Geale threw and missed a punch on Cotto in the 2nd round which caused his gloves to hit the canvas, but the referee did not rule the gloves touching the canvas a knockdown.
Cotto continued his body destroying attack on Geale in the 2nd as he focused on Geale's body the entire night.  Cotto landed stiff right jab, after stiff right jab, and followed each jab up with a vicious left hook to Geale's belly.
Receive daily nutrition and fitness tips from The Biggest Loser Bootcamp
Cotto would do more of the same in the 3rd as he ripped Geale to the body with more vicious left hooks.  Cotto did a great job in this fight by boxing Geale in the middle of the ring and using a stiff right jab to keep Geale's aggression at bay.  Geale had his moments in the 3rd as he landed a solid overhand right on Cotto. Cotto's speed and power punching, however, proved to be just too much for Geale in this fight.
In the 4th round, Cotto's gave the boxing world one of the best rounds of the year as he landed a vicious left hand on Geale that sent him crashing to the canvas.  Geale got up at the count of 9 only to be pummeled by Cotto's vicious power shots.  Geale showed great heart after the knockdown by trying to land some power shots of his own on Cotto, but Cotto would land a devastating counter right hand shot that would send Geale to the Canvas for the 2nd time in the 4th round.
Geale would get up from the 2nd knockdown, but would tell the referee that he did not want to fight anymore.  The referee stopped the fight and Miguel Cotto was awarded the 4th round TKO victory. With the win, Miguel Cotto retained his WBC and RING middleweight titles.
Conclusion
This fight between Miguel "Junito" Cotto and Daniel "Real Deal" Geale was a one-sided beating, but an entertaining beating to say the least. Geale did showed the heart of a champion in this fight by trying to fight fire with fire against Cotto, but again, Cotto's controlled body punching destroying scored the Potshot Boxing (PSB) Fight of the Month title for June 2015.
The great Freddie Roach his been the key catalyst for the success of Miguel Cotto's resurrected boxing career. Cotto's great counter punching is simply amazing to watch as a boxing fan and I hope he continues to focus on his opponents' bodies in the future because it is a thing of beauty. Daniel Geale could have easily been a victim of trying to trim down and make the catch-weight in this fight, but I feel that even if this fight was at 160, Cotto would have still destroyed him in my opinion.
The next victim for Miguel Cotto will be Saul "Canelo" Alvarez in the fall. If Cotto keeps up his body puncher destroying ways, then I feel he has a huge shot to beat the New Golden Boy Canelo Alvarez. It is definitely about to get interesting in the middleweight division with the winner of Cotto/Alvarez most likely fighting the biggest pearl of them all Gennady "GGG" Golovkin. I cannot wait to see how things play out over the next year or so.
Get 2015 NFL Sunday Ticket included at no extra charge with DirecTV and a FREE Genie® HD DVR Upgrade!
For more boxing news and articles continue to visit www.potshotboxing.com. If you like this post and other's from Potshot Boxing, feel free to subscribe to this boxing website by entering your email address into the floating email form provided on this post! Potshot Boxing – "Boxing news and article bites for all walks of life."