Here is Potshot Boxing's (PSB) Prediction for the upcoming Miguel Cotto vs. Delvin Rodriguez fight!!
Upgrade your Smartphone with a pre-paid Visa! See details here!
Miguel  "Juanito" Cotto, (37-4-0, 30 KO's) will always be a tough opponent for any one he faces and October 5, 2013 will be no different when he steps into the ring against a worthy brawler in Delvin "The Jaguar" Rodriguez, (26-5-3, 14 KO's.)
This fight has slobber-knocker written all over it as both of these fighters love to slug it out.  I expect for Cotto to be the smarter fighter in this fight by picking and choosing when to slug it out with Rodriquez as Rodriquez will be pressuring Cotto a lot in this fight.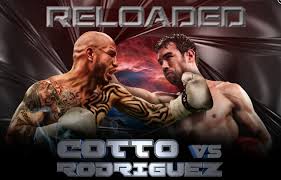 Photo Credit: forums.somethingawful.com
Rodriquez is a known brawler that will usually come straightforward and bring the fight to his opponents so Cotto should be able to take advantage of the aggressive style of Rodriguez with good jabs and counterpunches.
This fight will boil down to whether or not Rodriguez can put enough pressure on Cotto to make him quit or if Cotto can stay patience, play the matador in this fight, and just potshot Rodriguez to death en route to an easy victory; and I think that Cotto will do just that to get himself back in the running for another junior middleweight title fight.
Prediction:  Cotto by 9th round TKO
Upgrade your Smartphone with a pre-paid Visa! See details here!
For more boxing news and articles continue to visit www.potshotboxing.com. If you like this post and other's from Potshot Boxing, feel free to spread the word to your favorite social media channels with your friends and family!! Potshot Boxing – "Boxing news and article bites for all walks of life."