This is a recap of what transpired in the Miguel Cotto vs. Delvin Rodriguez fight!!
Wow!!  We did not see this one coming!!  Miguel Cotto gave the boxing world a blast from the past as he went back to the boxing style that he used to end boxing careers with by simple throwing hard left hand shots to the body.
Cotto come out from the start of the bell stalking Rodriguez by throwing his great jab which set up the great shots to Rodriguez's body.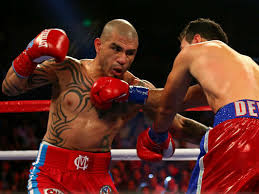 Photo Credit: www.sportinglife.com
Rodriguez just appeared overwhelmed the entire fight as he looked surprised at the sheer determination and aggression that Cotto brought to him for 3 short rounds.
In the 3rd round, Cotto backed Rodriguez up once again at threw hard punches to Rodriguez's body and then followed it up with a vicious left hook that sent Rodriguez down to the canvas which led to the referee immediately stopping the fight.
Cotto was awarded the 3rd round TKO victory which has definately put him back into the championship title mix.
Conclusion
Miguel Cotto just seemed detemined to prove that he is still relavant in the sport of boxing; and well, if there were any questions, Cotto erased those doubts with the performance he put in Saturday night.
Cotto has a new found life in boxing, and with the great Freddie Roach leading the way for the rest of his professional boxing career, no telling how Cotto's boxing career will be written when it is all said and done.
For more boxing news and articles continue to visit www.potshotboxing.com. If you like this post and other's from Potshot Boxing, feel free to spread the word to your favorite social media channels with your friends and family!! Potshot Boxing – "Boxing news and article bites for all walks of life."