Here are the boxing results for Saturday, June 6, 2015 which featured Miguel Cotto and Robert Guerrero!
The Premier Boxing Champions (PBC) Series kicked off the June 6, 2015 schedule on NBC when Robert "The Ghost" Guerrero returned to the ring after losing to Keith "One Time" Thurman back in March of this year to face off against a much gamed Aron Martinez.
This was a very good fight between Guerrero and Martinez, and though Martinez scored a knockdown on Guerrero in the 4th round, it was not enough.  Martinez gave Robert Guerrero all he could handle as he backed Guerrero up against the ropes the entire fight and banged him with vicious combinations after combinations.
Like Doritos? Get a Doritos Sample here!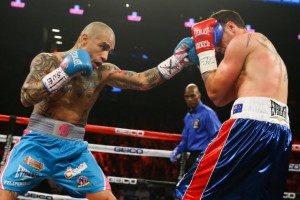 Martinez was busier and winning the fight in my opinion, but when the fight went to the judges' scorecards, Judge Max DeLuca scored the fight 95-94 for Martinez, Judge Eddie Hernandez scored the fight 95-94 for Guerrero, and Judge Jerry Cantu scored the fight 97-92 for Guerrero as Robert "The Ghost" Guerrero escapes with a 10th round split-decision victory.
I have a question Boxing World.  Can somebody tell me what fight Judge Jerry Cantu was watching?  Scoring that fight 97-92 is just ridiculous in my opinion.  Anyway to conclude the Guerrero/Martinez fight, Robert Guerrero needs to take some time off and maybe fight next year.
To be honest, I am not sure if Robert Guerrero will ever be the same fighter again anyway, but the boxing world should appreciate him given how he always gives the boxing world crowd pleasing action.
Now on to the night cap as the Barclays Center is really starting to become a hot bed for all action style fights. Miguel Cotto proved to the boxing world that not only he belongs in the middleweight division, but he can beat guys that are over 20 pounds heavier than he is as well.  Daniel "Real Deal" Geale headed into the WBC and RING middleweight title fight weighing almost 180 pounds and Cotto simply destroyed him.
Cotto's controlled boxer-aggression game plan wowed the Barclays Center crowd as he landed crisp, devastating shots on Geale all night which I am sure got the attention of Gennady "GGG" Golovkin who was at ringside for this fight.
In the 1st round of this fight, Cotto started out boxing well as he landed a hard left hook to Geale's body, followed up by a vicious left, right combination to the body that got Geale's attention. Geale would press forward and try to use his massive size advantage to cut off the ring on Cotto in hopes of catching Cotto with something big.
As the 1st round went on, Cotto landed a short left hook that stopped Geale in his tracks again.  Cotto continued to box great in the 1st as he used his right jab to set up that vicious left hook which found its way to Geale's face at least 2 more times in that 1st round.  Cotto would close the 1st round with good jabs and solid hard shots to Geale's body.
In the 2nd round, Cotto picked up the pace a little as he started to move forward behind that right jab to set up the vicious left hook again as he cracked Geale with another left hook early in the 2nd that wobbled Geale.  Geale was moving forward in the 2nd as well, but he was not throwing enough punches to be effective against the transformed Cotto.
Geale missed a punch in the 2nd round which caused his gloves to hit the canvas, but the referee ruled the gloves touching the canvas a slip.  Cotto would continue his body destroying attack on Geale in the 2nd as he focused on Geale's soft body the entire night.  Cotto would land stiff right jab, after stiff right jab, and followed each jab up with a vicious left hook to Geale's belly.
Cotto pumped up the volume some more in the 3rd round as he ripped Geale to the body with more vicious left hooks.  Cotto did a good job boxing Geale in the middle of the ring and using a stiff right jab to keep Geale's aggression at bay.  Geale would land a good overhand right on Cotto in the 3rd, but Cotto's speed and accurate power punching was eating Geale alive in this fight.
In the 4th round, Cotto's great boxing would lead to him landing a vicious left hand shot that sent Geale straight to the canvas.  Geale would get up at the count of 9, but Cotto would walk him down and land vicious power shots to his body.  Geale would try and combat Cotto with some power shots of his own, but Cotto would land a counter right hand shot that would send Geale back to the Canvas for good.
Geale would get up from the 2nd knockdown, only to tell the referee that he did not want anymore of Cotto.  The referee stopped the fight and Miguel Cotto was awarded the 4th round TKO victory, thus, retaining his WBC and RING middleweight titles.
During the post-fight interview, Max Kellerman asked Cotto if he will be fighting Saul "Canelo" Alvarez next and Cotto responded by saying that Canelo will just be another chapter in his career, but he wants to take a little time off to spend with his family.
Cotto also told Kellerman that he would be willing to fight Gennady "GGG" Golovkin after Canelo if "GGG" is available. I simply do not care who Cotto fights next because no matter if it is Canelo or GGG, the Boxing World is sure to get a real treat!
Here are some more boxing results from the Premier Boxing Champions (PBC) Series that took place earlier on Saturday, June 6, 2015.
Heavyweight prospect Dominic "Trouble" Breazeale improves to 15-0 as he defeated Yasmany "El Tiburon" Consuegra by 3rd round KO.
Jesus "El Jinete" Cuellar defeated the fading Vic "Raging Bull" Darchinyan by 8th round KO.
EPOLL Surveys! Enjoy sharing your thoughts on celebrities, movies, and TV while earning cash and prizes.
For more boxing news and articles continue to visit www.potshotboxing.com. If you like this post and other's from Potshot Boxing, feel free to subscribe to this boxing website by entering your email address into the floating email form provided on this post! Potshot Boxing – "Boxing news and article bites for all walks of life."