The month of September 2015 produced a lot of great fireworks in Boxing.  The boxing world witnessed Austin 'No Doubt' Trout getting back on track, Errol 'The Truth' Spence, Jr. continuing to dazzle, Adonis 'Superman' Stevenson's dominance, and WBC heavyweight champ Deontay 'The Bronze Bomber' Wilder stop a fighter who had never been stopped in Johann 'Reptile' Duhaupas.
Those are just some of the great fights that took place in the month of September, but if Potshot Boxing (PSB) have to pick a fight for Fight of the Month, it will have to be the Floyd 'Money' Mayweather, Jr. vs. Andre 'The Beast' Berto fight that took place on September 12, 2015.  Okay, Okay, Boxing World, I know that there were a lot of better fights to choose from for Fight of the Month for September 2015, but Potshot Boxing (PSB) wanted to give a farewell nod to the Pound 4 Pound King as he rides off into the sunset.
In his farewell fight with Andre Berto, Mayweather was too quick, too elusive, and too skilled for the overmatched Berto.  Heading into the fight, Mayweather did his usual boasting about how much money he has, while Berto was shedding light on the fact that Floyd Mayweather cannot read.
Can Floyd Mayweather read?  I don't know.  Anyway, none of that mattered as Mayweather gave the MGM Grand Hotel & Casino a masterful performance en route to tying Rocky Marciano's undefeated boxing record.
FanDuel! One-Week Fantasy Football Leagues for Real Money! Join Now. Leagues start at $1!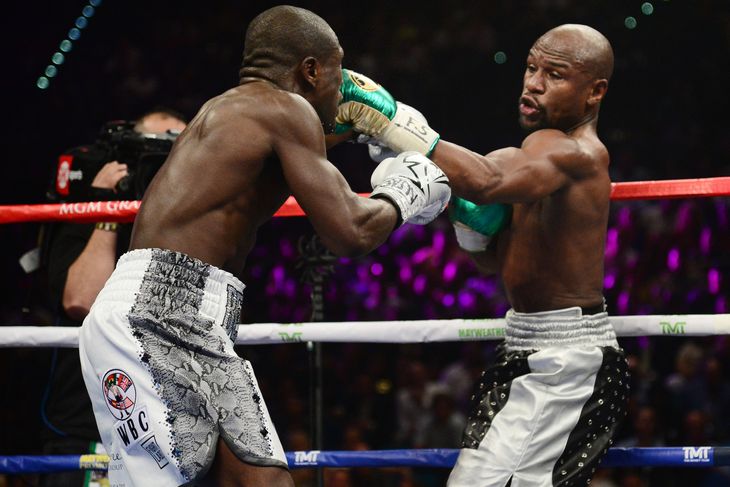 Berto started out in the 1st round by using the right game plan which was jabbing his way on the inside, but did not have the proper reach to get inside and inflict punishment on Mayweather.  Mayweather started off feeling out Berto like he does all of his opponents in the 1st round and then heated up late in the 1st by landing that signature lead left to Berto's body while shooting the lead right to Berto's head.
In round 2, Berto raved up the aggression by stalking Mayweather, but did not effectively cut off the ring on Mayweather which allowed Mayweather to escape clinches and land his jab and lead right hands.  Berto continued to stalk Mayweather in round 3 while trying to mix in multiple jabs. Berto's ineffective aggression left the door open for Mayweather to counter him with accurate power shots.
Andre Berto had his best round in round 4 as he landed a solid straight left hand on Mayweather that backed him up.  Mayweather, however, would fire back with a  counter right hand shot that caught Berto on the inside.  As round 4 continued, Berto tried to rough up Mayweather, but ended up smothering his own aggression in the process.
In round 5, Mayweather circled the ring to allow Berto to chase him so that he can try and catch Berto with more counterpunches.  Berto did a decent job trying to put the jab in Mayweather's face, but it was just not effective.  Towards the end of round 5, Berto landed a low blow on Mayweather which got the attention of Referee Kenny Bayless.  Bayless quickly warned Berto and got the fight back on track.
Lose weight, have fun, and be healthy! Get started in 3 easy steps!
Mayweather did some excellent body work in the 6th as he ripped berto with lefts and rights to the body that zapped Berto's energy.  Mayweather's masterful body work in round 6 got the MGM Grand crowd off their feet and buzzing with satisfaction.
Berto landed some good jabs on Mayweather in the 7th, but he allowed Mayweather to use the entire ring to get out of the way of his punches and focus more on his body.  Mayweather showboated in round 8 as he frustrated Berto with his dancing, laser jabs, and lead lefts to the body.  At this point, Mayweather had complete control of the fight and Berto's psyche.
In round 9, Mayweather got off his bicycle and  started to come forward as he clinched Berto to gain more opportunities to chop at Berto's body.  Mayweather's inside attack would spark some crowd-pleasing fireworks in the 9th as Mayweather and Berto would trade some hard power shots in the middle of the ring on each other which excited the MGM Grand crowd again.
Mayweather showed the boxing world why he is a defensive genius in the 10th by eluding a lot of Berto's punches.  Berto kept stalking Mayweather in spite of being frustrated, but Mayweather was just too skilled for him.  Mayweather would close the show by doing more showboating in rounds 11 and 12.  Round 12 would prove to be the best round of the night for Mayweather as he pulled out his whole bag of tricks on Berto.
Mayweather would land a left hook, lead right, and counterpunches on Berto in the final round as he continued to play to the MGM Grand crowd.  As round 12 continued, Mayweather stood in the middle of the ring and caught Berto with some hard combinations that stunned him.  Mayweather continued his assault on Berto as it seemed as though Mayweather was trying to get the knockout on Berto.
Mayweather caught Berto with a big right hand and left to the body down the stretch in round 12.  Mayweather would dance and talk trash to Berto as the fight came to an end.  The Pound 4 Pound King's final fight would go to the judges scorecards.  Judge Adalaide Byrd scored the bout 120-108, Judge Dave Moretti scored the bout 117-111, and Judge Steve Weisfeld scored the bout 118-110 all for the winner and still undefeated Floyd 'Money' Mayweather, Jr.  With the win in his last fight, Mayweather has now tied Rocky Marciano's undefeated record of 49-0.
Like Doritos? Get a Doritos Sample here!
Conclusion
Andre Berto had the right game plan for this fight.  He jabbed his way in and used aggression, but he was just not effective enough.  It's like  I always say, "the way to beat Floyd Mayweather, Jr. is his best attribute, and that is dealing with pressure."
So what's next for the Pound for Pound King?  Do you really think Mayweather is going to retire after this fight?  I know he said it in the post-fight interview, but really?  I feel that he will stay retired for a brief moment, and then came back and go for the professional boxing record of 50-0.
In any case, I know this is not the fight that should get Potshot Boxing's (PSB) nod for Fight of the Month, but it was Mayweather's last fight, and he did a masterful job once again silencing another opponent, but not the critics.  I am not sure if Mayweather will ever get credit for his boxing genius.
For boxing tickets to the latest big fights get them here.  Tickets are brought to you by Ticket Liquidator!
For more boxing news and articles continue to visit www.potshotboxing.com. If you like this post and other's from Potshot Boxing, feel free to subscribe to this boxing website by entering your email address into the floating email form provided on this post! Potshot Boxing – "Boxing news and article bites for all walks of life."