Garcia vs. Matthysse
In the co-feature, Danny Garcia boxed his way to a 12th round unanimous decision over Lucas Matthysse to retain his WBA(Super), WBC, and Ring junior welterweight titles.  During the fight, Garcia started off a little tentative in the early rounds as it seemed as though Matthysse's power was going to give him problems throughout the night, but Garcia was able to land a crushing blow to Matthysse's right eye which turned the fight completely around.
Garcia started to get comfortable in the middle rounds as he landed beautiful counterpunches when Matthysse got inside on Garcia as Matthysse stalked Garcia the entire night regardless of suffering a blown up eye.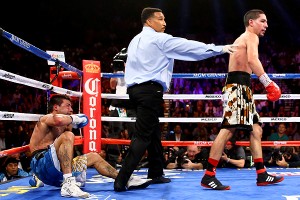 Photo Credit: Al Bello/Getty Images
In the 11th round, Matthysse knocked Garcia's mouthpiece somewhere over the rainbow, but Garcia battled back and  landed a great left hook to Matthysse that knocked him to the canvas.  This is the first time that anyone has knocked Matthysse down.  In the end, Garcia showed toughness in a fight were he knew that Matthysse would bring the pressure to him and he fought hard to retain his junior welterweight world titles.
Mayweather vs. Canelo
Floyd Mayweather, Jr. put on another great performance as he used those superior defensive skills to outwit the tough and gamed Canelo Alvarez.  Right on point, the first couple of rounds, Mayweather used those rounds to collect data to figure out what type of strategy Canelo was going to use to try and defeat him.
After the first couple of rounds, Mayweather used the shoulder roll to counterpunch Canelo when the two fighters boxed in close.  Mayweather did a great job in the fight deciding when to box and when to mix it up as Mayweather did stand and fight during some parts of this bout.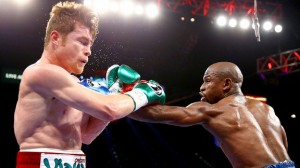 Photo Credit: espn.go.com
Canelo pressured Mayweather the entire fight and he did use the jab well to open up Mayweather's defense and occasionally got to Mayweather's body, but as the rounds went on, Canelo seemed a little fatigued and frustrated during the 7th round on as Mayweather began to pepper Canelo with a lot of timed power shots to the head on body.
In the end, Canelo's gameplan was just okay.  He did use his jab successfully, but he did not pressure Mayweather enough; instead, he surprised a lot of people and actually tried to box with Mayweather which definitely spelled disaster for the young Canelo.  The fight ended up going the distance and Floyd Mayweather was awarded the controversial 12th round majority decision victory over Canelo Alvarez as the best pound for pound fighter in the world has now unified the WBC and WBA (Super) junior middleweight titles.
Yes, I do mean controversial because there is no way any judge in boxing should have scored this fight a draw.  Again, Canelo did do a lot of good things in this fight, but not enough to warrant a draw.