What a great fight Floyd "Money" Mayweather and Marcos "El Chino" Maidana put on for the MGM Grand Crowd and the boxing world!!  On a night when Floyd had a flat-out circus as a part of his ring entrance; that did not even compare to the fireworks that would proceed the ring entrances as Maidana simply brought the fight to the Pound for Pound King Mayweather from start to finish of this fight.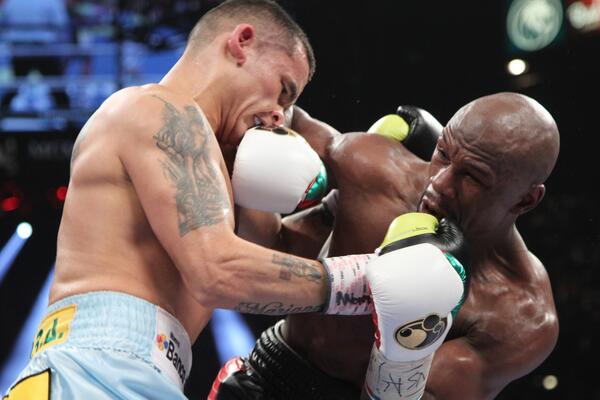 Photo Credit: Shotime Sports @SHOsports
In the first round, Maidana came straight out and just started throwing bombs at Mayweather and Mayweather had to cover up.  Maidana did a great job of smothering Mayweather's offense for the first half of this fight as he used his aggressiveness to backed Mayweather into the ropes every chance he got and just started throwing awkward punches from all types of angles.
Maidana's feverish pace would not let up as he continued to maul Mayweather at every turn.  The two fighters would clash heads in the 4th round which caused a bad cut over Mayweather's right eye.  Yes I said it…a cut over Mayweather's right eye.  Now when was the last time you heard Mayweather having a cut on his face? Never!! Because that was the very first time Mayweather has ever been cut that severe in his professional boxing career.
In the midst of Maidana's feverish pace, Mayweather was able to land that sneaky left jab to the body during the first half of the fight that would pay dividends late in the fight as those shots to Maidana's body slowed down Maidana late in the fight. Going into round 7, a lot of experts had this fight scored even so this fight was anybody's fight going into the late rounds.
Maidana's pace slowed in the later rounds but even though his pace slowed, Maidana kept coming for Mayweather as Maidana continued to throw hard looping shots at Mayweather.  Mayweather would capitalized on Maidana's wild punching, however, by working Maidana's body and landing that lead right hand at will as Maidana was coming on the inside. Just a great fight!!
Maidana continued to keep up his aggressive pace well into the championship rounds, but Mayweather's accurate counterpunching showed up to the forefront of this fight and ruled the rest of the night. Mayweather was awarded the 12th round majority decision victory given that one judge had the fight scored a draw on their official scorecard.
Mayweather captured Maidana's WBA welterweight title and retained his WBC and Ring welterweight titles.
Conclusion
The boxing world have not seen Floyd Mayweather, Jr. in a tough fight like that since he fought Jose Luis Castillo in their first fight.  After the fight with Castillo, Floyd gave Castillo a rematch.  This fight with Maidana deserves an encore as well, but the question will be whether or not Mayweather gives Maidana a rematch?
Maidana did what every fighter needs to do when they fight Mayweather and that is throw punches in bunches and never run out of gas.  If a fighter can do that; then they may have a chance against Mayweather, but there is one problem, usually most of these fighters gas out trying to catch Mayweather. Again, great fight between Mayweather and Maidana!!
The boxing world would definitely not mind a rematch because that would be great for boxing business!!