This is a recap of the Mayweather vs. Maidana II "Mayhem" and other fights that appeared on the "Mayhem" undercard on 9/13 2014.
Increase your energy levels by detoxifying your body.  Get your free trial today!
Well, Floyd Mayweather, Jr. proved to the boxing world once again why he is the best fighter in the sport. Mayweather used that straight left hand to the body and lead rights to keep Marcos Maidana at the end of his punches all night long.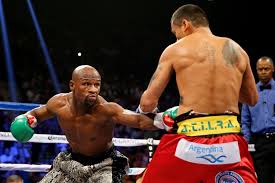 Photo Credit: www.sbnation.com
Maidana tried to trap Mayweather against the ropes early on in the fight, and he had some success, but Mayweather used the very huge ring to escape Maidana's advances and dance boxing circles around Maidana all night long. Now for the novice boxing fan, Floyd Mayweather made it a long, boring night; but for the hardcore fan, Mayweather's boxing was picture perfect.
At the end of the 3rd round, Maidana caught Mayweather with a short right hand that did buckle Mayweather as Mayweather went back to his corner. Maidana did a great job in the 4th round testing Mayweather's legs by attacking him with great pressure and it did seem as though Mayweather was still on shaky legs.
Mayweather, however, would stay calm during Maidana's onslaught in the 4th and caught Maidana with some good counterpunches to the head and body.
Take this survey to receive a PlayStation 4!
Mayweather would take complete control of this fight from the 5th round on as Mayweather's counterpunching won the night as Maidana just did not have an answer for Mayweather and you could clearly see that Maidana was getting frustrated. By round 7, the counterpunching and body work that Mayweather committed to started to show on Maidana.
Maidana got so frustrated that Floyd Mayweather claimed that Maidana bit him on the hand in the 8th as the two fighters were in a clinch.
Round 9 was a comical as Mayweather's steady counterpunching assault and Maidana continued wearing down caused Maidana to go into a neutral corner after the bell rang for the end of round 9. Mayweather would use that moment to pleasure the MGM Grand crowd by tapping Maidana on the shoulder and telling him that his corner was in the opposite direction. LOL!! That was too funny.
Round 10 would be no different as far as the action goes. Referee Kenny Bayless would take a point away from Maidana for pushing Mayweather to the ground after the two fighter were tangled up. I personally feel that Bayless should not have taken a point away given that Mayweather was already winning the fight easy.
Take this survey to receive a PlayStation 4!
In the 11th round, Mayweather would caught Maidana with a low blow, but Referee Kenny Bayless did not take a point away. Hmmm…Why not? Anyway. Mayweather would continue his great body destruction in the 11th. Floyd did an awesome job the whole night focusing on Maidana's body and he simply zapped a lot of Maidana's power in the process.
Mayweather would close the show in the 12th in a very displeasing fashion as he boxed, or should I say ran the entire round. Maidana was just out boxed from pillar to post by Mayweather. Floyd "Money" Mayweather, Jr. would win an easy 12 unanimous decision victory over Marcos "El Chino" Maidana.
After the fight, Jim Gray would asked Floyd Mayweather the obvious question, will he fight Pacquiao and Floyd said that he will sit down with his team, but Floyd acknowledged that Pacquiao needs to focus on his opponent in November. I must say Pacquiao does have a really good opponent to try to get past in Chris Algeiri.
Here are the boxing results from the undercard of the Mayweather vs. Maidana II "Mayhem" PPV event!!
Leo "Terremoto" Santa Cruz defeated Manuel "Sauvecito" Roman by 2nd round TKO victory to retain his WBC junior featherweight title.
Mickey Bey defeated Miguel "The Puppet" Vazquez vs.  by 12 round split-decision victory to capture the IBF lightweight title.
James De La Rosa defeated Alfredo "El Perro" Angulo by 10 round unanimous decision.
Increase your energy levels by detoxifying your body.  Get your free trial today!
For more boxing news and articles continue to visit www.potshotboxing.com. If you like this post and other's from Potshot Boxing, feel free to spread the word to your favorite social media channels with your friends and family!! Potshot Boxing – "Boxing news and article bites for all walks of life."