The Mayweather vs. Berto fight may possibly be the final time we will see the best Pound for Pound fighter in the sport lace up the gloves on September 12, 2015 at the MGM Grand.  Well the boxing world can be relieved that both fighters weigh in ready and under the 147 pound weight limit.
Get your Official Mayweather vs. Berto Poster! Own a piece of history today.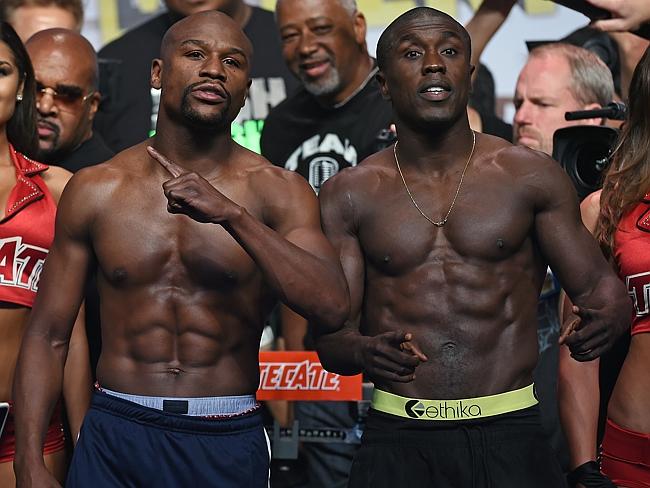 The stare down after the weigh-in, however, was not as intense as some of Mayweather's other fights.  This fight sort of crept up on everyone because to be honest, it really wasn't a lot of buzz surrounding this fight.  Do you really believe that this will be Mayweather's last fight Boxing World?
In my humble opinion, I do not think so.  I believe that this fight for Mayweather is a tune up for something bigger in 2016.  This conversation can be for another post.  Anyway, here are the weigh in results for the upcoming WBA, WBC, and RING welterweight title fight between Floyd 'Money' Mayweather, Jr. and Andre 'The Beast' Berto.
Weigh in Results for Mayweather vs. Berto: High Stakes
Champion: Floyd 'Money' Mayweather, Jr. – 146 lbs.
Challenger: Andre 'The Beast' Berto – 145 lbs.
FanDuel! One-Week Fantasy Football Leagues for Real Money! Join Now. Leagues start at $1!
For more boxing news and articles continue to visit www.potshotboxing.com. If you like this post and other's from Potshot Boxing, feel free to subscribe to this boxing website by entering your email address into the floating email form provided on this post! Potshot Boxing – "Boxing news and article bites for all walks of life."