The Great Juan Manuel Marquez simply had the perfect opponent in front of him last night as Mike "Mile High" Alvarado waited too long to mount an offensive attack which allowed Marquez to pull off one of the best boxing performances of his illustrious career.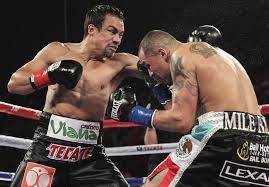 Photo Credit: boxingnews.com.ua
Marquez displayed a combination of great counterpunching and explosive combination punching which resulted in a recipe for disaster for Alvarado as Alvarado spent the night trying to bait Marquez into being the aggressor in the fight as Alvarado's gameplan was to take Marquez out of his counterpunching boxing style in order to search for opportunities to catch Marquez with something big.
Marquez continued his aggressive sweet science onslaught on Alvarado as he was pitching a shut out through round 7 on most boxing fans and experts' scorecards.
Round 8 produced some huge excitement as Alvarado got caught with a beautiful counter-straight right hand that sent Alvarado flying across the ring and halfway out of it as Marquez scored one of the best one-punch knockdowns that the boxing world have seen all year.  Alvarado was able to beat the count of 10 and then got up from the knockdown and started to aggressively go after Marquez and land some hard shots on Marquez as the fight turn into a blood and guts bonanza from that moment.
It was  as if Marquez pushed a button that woke Alvarado up when he knocked Alvarado down in the 8th round that made Alvarado realize that hey I am in a fight.
Then came the 9th!!  Marquez and Alvarado produced one of the best rounds of the year in the 9th round of this fight as Marquez and Alvarado started to  throw hard, brutal shots.  I must say, however, that even then, Marquez was getting the best of the exchanges as he was landing 5 and 6 punch combinations on Alvarado that would have made a lot of fighters quit; but though bloodied and battered, Alvarado kept fighting through the spitfire that Marquez was dishing out!!
As the 9th round continued, Marquez's aggressive haste would get him in trouble for once in this fight as Alvarado landed a perfect counter shot on Marquez that sent Marquez to the canvas.
Marquez would get up off the canvas and simply put some unbelievable punishment on Alvarado as again, both of these guys were starting to land some crushing blows on one another, but Marquez display great counterpunching and combination punching in this fight that proved to win the night from start to finish!!
Alvarado would create some sparks late in the fight, as he caught Marquez with some huge counterpunches on his own down the stretch, but Marquez was simply too tough, too elusive, and too skilled for Alvarado as Marquez cruised to a 12 round unanimous decision victory.  With the win, Marquez has put himself once again in Manny Pacquiao's path as he is now the mandatory challenger for Pacquiao's WBO welterweight championship!!
Conclusion
Juan Manuel Marquez showed the boxing world why he is clearly a surefire boxing Hall of Famer and reminded us all of what the sweet science is all about and that is making the other fighter miss and also dishing out an accumulation of punishment that to your opponent that is satisfying to the boxing world.
Now Marquez is most likely well on his way to a 5th fight with Manny Pacquiao!!  The question is, however, whether or not the boxing world wants to see a 5th fight between these two legends.  Time will tell.