Here is Potshot Boxing's Prediction for the upcoming WBO welterweight title rematch between Manny Pacquiao vs. Timothy Bradley!!
Manny "PacMan" Pacquiao, (55-5-2, 38 KOs) and Timothy "Desert Storm" Bradley, (31-0-0, 1 no contest, 12 KOs) will both enter the ring at the MGM Grand in Las Vegas, Nevada on Saturday night with something to prove to the boxing world.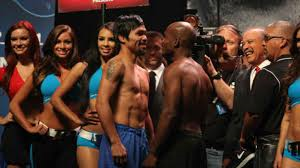 Photo Credit: www.mp8.ph
Pacquiao needs to prove to the boxing world that he is still has the fire for the sweet science; while Bradley needs to silence the critics and prove that the first clash with Pacquiao was not a fluke.
So who wins?
I expect for Pacquiao to attack aggressively in this fight as I expect for Pacquiao to look for the knock out against Bradley to leave no doubt that the first meeting was indeed a fluke.  I expect for Bradley to use his jab, be smart, and try and counterpunch the aggressive PacMan; let's remember, Pacquiao has problems with effective counterpunchers.
This fight will boil down to which Timothy Bradley shows up to the MGM Grand on Saturday night.  If the Timothy Bradley that does not listen to his corner show up to the party, then Bradley can be in for a long night against the PacMan because this will mean that Bradley has let his emotions get in the way, thus he could possibly get knocked out by Pacquiao given that Bradley does not have the punching power to hurt Pacquiao if this fight turns into a slugfest.
Now, if the Timothy Bradley that actually listens to his corner shows up, then Bradley has a great chance of winning the rematch against Pacquiao, staying undefeated, and keeping his WBO welterweight strap given that Bradley can use his great jab and elusive skills to outbox and outpoint Pacquiao as again, Pacquiao have serious problems against effective counterpunchers.
Now here is what I believe will happen.  Bradley will start off using his great boxing skills against Pacquiao, but somewhere in the middle of the fight Pacquiao is going to land something big on Bradley and Bradley's fight game plan will get thrown out the window as Bradley will try and stand toe to toe with Pacquiao, thus I predict a stunning knockout for the PacMan.
Prediction: Pacquiao by Knockout