Check out Potshot Boxing's (PSB) Prediction for the upcoming WBO welterweight championship fight between Manny Pacquiao  and Chris Algieri!
Manny "PacMan" Pacquiao will enter the Venetian Casino & Resort, Macao, in Macao, China on November 22, 2014 looking to further cement his legacy as one of the greatest fighters of all time.  The opponent he will be facing, however, will not be an easy one.  Chris Algieri has always dreamed of fighting Manny Pacquiao and now he will get his chance to show the boxing world what he can do against the great Manny Pacquiao.
Get Manny Pacquiao T-Shirts and more here at PSB. Own your gear now!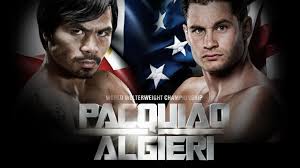 Photo Credit: mainevent.com.ua
In Manny's last fight, he righted a wrong that was done to him by the judges in his first fight with Timothy Bradley by once again winning most of the rounds in the rematch with Bradley, thus, regaining his WBO welterweight championship that he really never lost in the first place. (Well, he eventually would have lost it to Juan Manuel Marquez, but that's neither here nor there.)
Undefeated Chris Algieri got up off of the canvas twice in the 1st round to put on one of the best boxing performances of his career in his last fight when he squared off against the ever so dangerous Ruslan Provodnikov.  The win over Provodnikov propelled Algieri ahead of all contenders in the Pacquiao sweepstakes.  It would have been Provodnikov vs. Pacquiao if Provodnikov could have finished Algieri off in the 1st round.
Nevertheless, on November 22 it will be Chris Algieri getting his chance at superstardom against the legend himself Manny Pacquiao.  This is going to be a great fight!  This will be the classic boxer vs. boxer-puncher style boxing match.  I expect for Algieri to box Pacquiao by using his long jab and waiting for opportunities to counterpunch.  We all know that Pacquiao have trouble against fighters who can move and counterpunch.
I expect Pacquiao to pressure Algieri effectively by using angles to punch Algieri and cracking him with that signature straight left hand.  The difficult thing about fighting Manny Pacquiao is that his trainer Freddie Roach has successfully taught him how to box, so Manny knows when to attack and when to lay back.  This is the reason why he is so difficult to fight even if a fighter is great at boxing or not because now Manny can do both; box and brawl.
Algieri has a great chance in this fight given his length, good boxing skills and movement, but in the end, Manny Pacquiao is not Ruslan Provodnikov.  If the PacMan gets you in trouble, he is not going to let you off the hook.
Prediction: Manny "PacMan" Pacquiao by Knockout
Get Manny Pacquiao T-Shirts and more here at PSB. Own your gear now!
For more boxing news and articles continue to visit www.potshotboxing.com. If you like this post and other's from Potshot Boxing, feel free to spread the word to your favorite social media channels with your friends and family!! Potshot Boxing – "Boxing news and article bites for all walks of life."