Oh my goodness!!  What a fight this is going to be on November 23, 2013!!
Manny "PacMan" Pacquiao, (54-5-2, 38 KO's); Brandon "Bam Bam" Rios, (31-1-1, 23 KO's); what a potential fight of the year!! 
Don't lose your digital life! Protect your files!
Both of these fighters are coming off of losses; Rios to Mike Alvarado in their rematch back in March of this year; and the great Manny Pacquiao to the great Juan Manuel Marquez  last year; in a fight that Pacquiao was knocked out cold.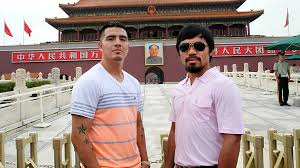 Photo Credit: hbo.com
PacMan was wise to take a year off after such a brutal knockout that he sustained at the hands of Marquez so he will definitely be ready to go come November 23. Bam Bam Rios is also chomping at the bit to get back into the ring to prove himself after taking a lot of punishment in his last fight with Mike Alvarado.
Rios is tailored made for Pacquiao because Rios, like his friend Antonio Margarito, loves to fight straightforward so Pacquiao will have no problems finding Rios in this fight as I expect Rios to try and put effective pressure on the PacMan, the only problem is that Pacquiao loves for his opponents to engage him so this should be a fight for the ages.
This fight has instant classic written all over it as I expect a lot of blood and guts to hit the floor in this fight because neither one of these fighters will be interested in boxing, well maybe Pacquiao more than Rios, but still not much boxing, just all business!!
It is safe to say that this fight is going to end with one of these gladiators suffering a devastating knockout.  I would be highly shocked if this fight went the entire 12 rounds. In the end, I expect for Pacquiao to do a little more boxing in this fight than Rios given that Rios can be a bit of a heavy bag like his friend Antonio Margarito at times, and we all know what Pacquiao did to him.
I just feel that Pacquiao have a lot to prove right now, and let's remember boxing world, before Pacquiao got caught by that beautiful right hand counterpunch from Marquez, he was winning the fight so I believe that Pacquiao will walk through Rios en route to a big fight next year; hopefully with the pound for pound king Floyd "Money" Mayweather.
Prediction: Pacquiao by knockout.
Get your Official Manny Pacquiao T-Shirt here at PSB!
For more boxing news and articles continue to visit www.potshotboxing.com. If you like this post and other's from Potshot Boxing, feel free to spread the word to your favorite social media channels with your friends and family!! Potshot Boxing – "Boxing news and article bites for all walks of life."