So Manny Pacquiao has signed a 2 year extension with Bob Arum and Top Rank Promotions. What does that means as far as a possible fight with the Pound for Pound King Floyd Mayweather, Jr.?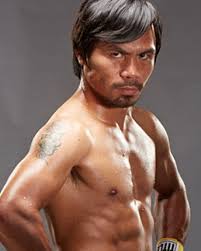 Photo Credit: toprank.com
Well it is super clear that Floyd Mayweather does not want to do business will Top Rank Boxing so by Pacquiao signing the 2 year extension with Top Rank Promotions; this puts the fight that the entire boxing world wants to see in super jeopardy.
Maybe Mayweather will have a change of heart and give the boxing world a possible showdown with Manny Pacquiao before he retires from boxing for good, but the beef between Mayweather and Arum could possibly be the stumbling block that break the camel's back for a possible history making fight.
I have never seen a fight build up for a possible showdown between two legendary fighters like I have seen for Mayweather and Pacquiao so it would be a flat out shame if Top Rank, Mayweather Promotions, and Golden Boy cannot come to some type of agreement to make the one and only fight the boxing world wants to see right now and that is Floyd Mayweather, Jr. vs. Manny Pacquiao!!
Another stumbling block that could stop the epic showdown between Mayweather and Pacquiao happening due to Pacquiao signing back with Top Rank is HBO and Showtime fighting for the stake to air the all-time Pay-Per-View showdown.
If Mayweather decide to get in bed with Top Rank and Pacquiao to make the fight happen; maybe HBO and Showtime can come together like they did when Lennox Lewis fought Mike Tyson back in 2002 and put on the Pay-Per-View on together as a joint-network event; split up the commentary between HBO and Showtime boxing commentators; and split up the ring announcing between the 2 networks. By the way, the fight between Lewis and Tyson in 2002 was another fight that the boxing world was dying to see, but in the case of Lewis vs. Tyson; it was Tyson who the boxing world was waiting on to get in the ring with Lewis to settle that heavyweight score once and for all.
Conclusion
The boxing world needs the Floyd Mayweather, Jr. vs. Manny Pacquiao to happen. Reasons are not necessary for the two fighter's boxing legacies because I feel that both of these great fighters will finish their illustrious boxing careers are in the top 50 of greatest fighters of all time; but for boxing history.
Boxing needs an epic fight like Mayweather and Pacquiao simply because these types of epic showdowns do not come too often. The last epic fight the boxing world was clamoring to see and it happened was Lewis vs. Tyson. Before that, it was De La Hoya vs. Trinidad.
Boxing needs this fight for the history of boxing; not for the money, but simply boxing history. It should not matter that Pacquiao decided to go back to Top Rank; Pacquiao, Mayweather, it is your duty to the boxing world to make this fight happen!!