Breaking News: Manny Pacquiao agreed to all of Floyd Mayweather, Jr.'s terms for a possible mega showdown between the two fighters.
For some weeks now, Manny Pacquiao has been letting the boxing world know that the biggest fight in years will happen.  He just announced that he has agreed to every stipulation that Floyd Mayweather has thrown at him.  Whether the stipulation is a 60/40 split of the purse or drug testing; whatever, the PacMan will fight Floyd Mayweather, Jr. under any circumstances.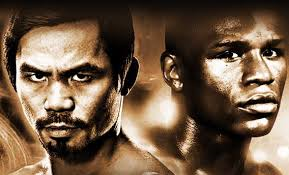 Check out these cool boxing t-shirts! From Mike Tyson to The G.O.A.T. Muhammad Ali.  Own one today!
The ball is now in the Pound for Pound King's court.  There is nothing left for us to do Boxing World, but sit back and wait on the response from Floyd Mayweather, Jr.  Will he sign on the dotted line?
If Floyd Mayweather, Jr. signs, the fight that we have been waiting for years to happen will most likely take place on May 2, 2015 at the MGM Grand in Las Vegas, Nevada.  Boxing World, we are very close to the mega showdown between the 2 best fighters in the sport. Floyd Mayweather, Jr.; MAKE IT HAPPEN!

For more boxing news and articles continue to visit www.potshotboxing.com. If you like this post and other's from Potshot Boxing, feel free to spread the word to your favorite social media channels with your friends and family!! Potshot Boxing – "Boxing news and article bites for all walks of life."