Check out Potshot Boxing's Prediction for tomorrow night's "Battle for Canada" showdown between Lucian Bute and Jean Pascal!!
On tomorrow night the Bell Center is going to explode as two of their own Lucian "Mister KO" Bute and Jean Pascal will enter the ring in what should be an entertaining fight.
Both of these fighters have worked their way back into the boxing world's good graces as Pascal seemed to have bounced back from the boxing lesson he received from the great Bernard Hopkins and Bute have also bounced back from his first professional boxing loss to the always tough Carl Froch.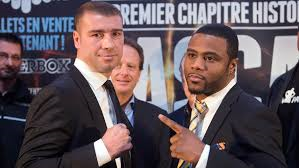 Photo Credit: 3morerounds.com
In saying that both fighters are back into the spotlight, however, this is still considered one of those crossroad fights as the loser of this fight will take a couple of steps back in their boxing career.
This fight will boil down to whether or not Pascal can stay upright and finish the fight strong as Pascal is well known for gassing out late in fights.
I expect for Pascal to start off boxing strong for the first couple of rounds, but then start to conserve his energy and box Bute for 2 minutes and 30 seconds of every round, and then simply try to steal the rounds in the last 30 seconds by throwing hard shots in hopes of catching Bute with accurate shots to convince the judges to give him the round.
I expect for Bute to not fall into the Pascal trap of stealing rounds by simply putting some effective pressure of his own on Pascal in hopes of forcing Pascal to use up some of that shaky stamina and fight.
This is one of those fights that I believe both fighters will come into the ring and display their true identity as to who they are as boxers in the ring.
So who wins?
I am just not sure that Pascal will change his style and try to fight Bute enough in this fight; instead I feel Pascal will get caught up in conserving energy and not trying to gas out, so in this fight I will have to give to edge to Bute based on work rate and good boxing .
Prediction
Bute by unanimous decision
For more boxing news and articles continue to visit www.potshotboxing.com. If you like this post and other's from Potshot Boxing, feel free to spread the word to your favorite social media channels with your friends and family!! Potshot Boxing – "Boxing news and article bites for all walks of life."