Here is Potshot Boxing's Prediction for the upcoming junior welterweight fight between Lucas Matthysse and Ruslan Provodnikov!
This fight between Matthysse and Provodnikov definitely has a 2015 fight of the year candidate feel to it given that both of these guys only know one way of fighting, and that is STRAIGHTFORWARD.
Get Potshot Boxing t-shirts, hats, mugs, and gifts here!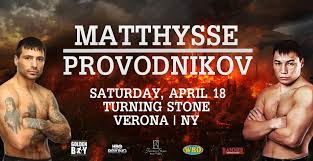 I expect these 2 fighters to come out swinging' for the fences from start to finish in this fight.  I expect for Matthysse to use accurate counter shots to offset Provodnikov's aggression.  I expect for Provodnikov to use his aggression to try and dig to Matthysse's body as much as possible in this fight.  This fight is going to be fought at such a frantic pace that I am not sure if this fight will go the distance.
Matthysse is aggressive and Provodnikov is aggressive so the Turning Stone Resort & Casino crowd is going to be treated to an all-out slugfest.
So who wins?  Well, Provodnikov likes to go to the body more than Matthysse so I should pick Provodnikov to win this fight right?  Wrong!  I think Matthysse's good counterpunching on Provodnikov will win the night.  Remember, both of these fighters are aggressive so I could be dead wrong, but I feel that Matthysse will be the more controlled aggressive fighter of the 2 on April 18, 2015.
No matter who wins that fight, you can be sure the boxing fans in Verona, New York are going to get their money's worth.
Prediction: Lucas "The Machine" Matthysse by TKO.
Find out how to live healthy and happy till your last days. Learn Here!
For more boxing news and articles continue to visit www.potshotboxing.com. If you like this post and other's from Potshot Boxing, feel free to subscribe to this boxing website by entering your email address into the floating email form provided on this post! Potshot Boxing – "Boxing news and article bites for all walks of life."