Check out Potshot Boxing's (PSB) Fight of the Month for April 2015!
On April 18, 2015 at the Turning Stone Resort & Casino in Vernon, New York, Lucas Matthysse found himself in yet another kill or die kind of fight when he stepped into the ring with the "Siberian Rocky" Ruslan Provodnikov. This was a fight in which Matthysse controlled most of the action by simply counterpunching Provodnikov with brutal punches, but would later on get a little worn down by Provodnikov's relentless straightforward attack.
Check out this unconventional weight loss technique that helps you lose weight fast!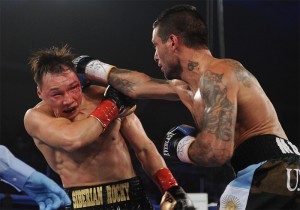 The Turning Stone Resort & Casino was treated to an all out blood and cuts fight in which boxing fans who were at that fight got every bit of their money's worth.
Heading into the fight, boxing fans knew that we were going to get an explosive fight given that both Matthysse and Provodnikov love brutal bloodshed.
Matthysse started off the fight by landing the left jab on Provodnikov right from the start as Provodnikov was coming forward.  Matthysse did a good job in the 1st round by wisely clinching Provodnikov and boxed him in the middle of the ring.  Provodnikov would continue to come forward and throw punches in bunches on Matthysse's body.
Matthysse's good boxing and clean counterpunching won the 1st round for Matthysse.
The 2nd round would be more of the same as Matthysse continued to use to left jab to keep Provodnikov at bay.  Provodnikov would suffer a cut over his left eye that was caused by an accidental head butt. Now it looked to me as though the cut was caused by a hard Matthysse punch, but nevertheless I digress. As the 2nd continued Matthysse would start to open up and land some good combinations to the head and body on Provodnikov.
Provodnikov would land a couple of big left hooks in the 2nd of his own that got the crowd roaring, but Matthysse dominated that 2nd round once again with good clean punching.
Need boxing tickets? Here are the current boxing events that have tickets available to purchase now!
Matthysse would continue to box beautifully in the 3rd by landing his left jab, and mixing in combinations that started to bust up Provodnikov.  The blood from Provodnikov's cut eye started to gush down into his face which allowed Matthysse to take advantage by landing hard jabs and combinations to Provodnikov's head.  Provodnikov, however, would continue to stalk Matthysse in spite of all of the unforgiving punishment he had taken from Matthysse early on in the fight.
In my opinion, Matthysse made a huge mistake in this fight by not going to Provodnikov's body more which allowed Provodnikov to be relentless and stay in the fight.
In round 4, Matthysse's mistake of not going to Provodnikov's body would hurt him as Provodnikov landed a huge left hand followed by a vicious right that momentary stunned Matthysse.  Provodnikov was throwing left hook after left hook with bad intentions.  Now, Provodnikov missed a lot of those shots, but Provodnikov was clearly back in the fight after round 4.
These two men would trade so much leather on each other it wasn't funny.  Provodnikov would land his left hooks and Matthysse kept the head hunting and steady jab up.  In round 5, the Matthysse vs. Provodnikov fight would turn into the phone booth fight the boxing world expected as Provodnikov moved forward and threw a whole lot of vicious punches, and Matthysse continued to land crisp counters on Provodnikov.
This was just all action in this fight!  Round 6 would prove to be a big round for Matthysse because finally, Matthysse started to mix in some hard body shots, followed by some hard straight right hands that hurt Provodnikov. Matthysse did a good job in the 6th of keeping the fight in the middle of the ring and just tattooed Provodnikov with devastating power punches that was not only crowd pleasing, but easy for the judges to score.
Get Potshot Boxing (PSB) t-shirts, hats, mugs, and other great merchandise from the Potshot Boxing (PSB) Store!
Before round 7 began, Provodnikov's corner asked him if he wanted to continue given the beating he had taken from Matthysse in the 6th.  Provodnikov is simply a warrior though as he said he wanted to continue and, thus, the fight moved on.  Matthysse would continue his calculating assault on Provodnikov in the 7th as Matthysse continued to land brutal power punches on Provodnikov's grill.
In the 8th round, Matthysse would start out by doubling and even tripling up on the left jab on Provodnikov while landing an occasional straight right hand.  Provodnikov would continue to move forward in hopes of landing his vicious left hook, but Matthysse would keep that snapping jab in his face.
Provodnikov would get in a solid right hand at the end of round 8, but nothing that got the attention of Matthysse.  Now, in rounds 9 and 10, Provodnikov would continue to move forward and take some heavy leather from Matthysse.
Provodnikov would land a huge left hook on Matthysse towards the end of the 10th, but at that point in the fight I really thought that Matthysse had the fight in the bag, but back from the dead Provodnikov comes.
Matthysse's lack of effective body punching would come back to haunt him in the 11th as the never say die Provodnikov surged forward and landed some big left hooks on Matthysse that wobbled him.  Matthysse would try to ward off Provodnikov with some hard body shots and jabs, but Provodnikov would will his way forward and impose his will on Matthysse in the 11th round.
The 11th round was a huge round for Ruslan Provodnikov as the Turning Stone Resort & Casino crowd stood up in appreciation of Provodnikov's valiant effort! In the final round, Matthysse looked a bit gassed as Provodnikov would land a big right hand on Matthysse, but Matthysse would come back with a solid left hook.
These 2 fighters stood in the middle of the ring in the last minute of the fight and just banged.  Provodnikov did everything he could to try and knockout Matthysse, but Matthysse would wisely hold Provodnikov in the last 10 seconds of the fight to secure the victory for him.
The fight would go the judges' scorecards and the fight was scored 114-114, 115-113, and 115-113 for the winner by majority decision, Lucas "The Machine" Matthysse.
Conclusion
This was a great fight for the boxing world!  This should be a lesson for Lucas Matthysse, however, because due to his lack of body work on Provodnikov, he allowed Provodnikov to not only got back into the fight, but almost come back and win the fight.
I am not complaining, though.  Provodnikov just proved why the boxing world will always love him given his no nonsense attack as he is willing to walk through getting hit with everything but the kitchen sink. There were some great fights in the month of April 2015, but none were more thrilling in my opinion than this great fight between Lucas "The Machine" Matthysse and Ruslan "Siberian Rocky" Provodnikov.
For this reason, this blood and guts action fight was chosen as Potshot Boxing's (PSB) Fight of the Month for April 2015!
Do you prefer Nike or Adidas? Answer for a chance to get a $100 Visa Gift Card.
For more boxing news and articles continue to visit www.potshotboxing.com. If you like this post and other's from Potshot Boxing, feel free to subscribe to this boxing website by entering your email address into the floating email form provided on this post! Potshot Boxing – "Boxing news and article bites for all walks of life."