All I can say is, "What a fight!!"  April 26, 2014 at the Stubhub Center in Carson, California marked another epic chapter in the history of boxing as "The Machine" Lucas Matthysse and "The Gladiator"John Molina gave boxing fans an all out slugfest!!  Matthysse got caught early in the fight by Molina as Mattysse was knockdown in rounds 2 and 5; while Molina was brutally beat up by Matthysse late in the fight as Matthysse knocked Molina down in rounds 8, 10, and 11.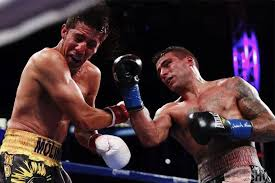 These two guys literally threw power punches from start to finish as neither one of these fighters were willing to give the other one an inch.  Shades of "the late great" Corrales and Castillo danced in boxing fans heads as we all witnessed brutal shot after brutal shot land on the heads and bodies of these two fighters.
As the fight went into deep waters, Matthysse seized control of this epic battle as Matthysse started to use his jab more to set up the more crushing power punches.  From round 8 on, Molina took so much punishment from Matthysse I was wondering what was keeping Molina on his feet.
Molina truly lived up to his name "The Gladiator," as he gave power shots as good as he took them, but Matthysse's brutal onslaught of vicious power shots just became too unbearable for "The Gladiator" as Matthysee's move forward and just beat up Molina late in the fight.
This great fight came to an end in the 11th round when Matthysse knocked down Molina with a crushing power shot that simply shook the soul of Molina.  The referee stopped the fight and Matthysse was awarded the 11th round TKO victory in dare I say, "2014's Fight of the Year?"
Conclusion
Molina is simply not human.  He took a serious beating from Mattysse from round 8 until the end of the fight and he kept coming.  Molina was like the terminator and even invited Matthysse to come inside and dish out more punishment to him.  This was a true blood and guts treat!!
Adrien "The Problem" Broner was suppose to have fought John "The Gladitor" Molina next Saturday.  I am sure that Broner is relieved that he is fighting another Molina next Saturday because this Molina that fought Matthysse is a flat out machine!!
I hope that a rematch between these two all-action fighters can be made after their wounds have completely healed because after this fight, I am sure that both Matthysse and Molina left a part of themselves in that ring!!
Other fight results from Saturday, April 26,2014
Keith "One Time" Thurman defeats Julio "The Kidd" Diaz by 2nd round TKO victory to retain his WBA interim welterweight title.
Omar "Panterita" Figueroa defeats Jerry Belmontes by 12th round split-decision victory to retain his WBC lightweight title.